Read Time:
1 Minute, 2 Second
Soon every Viennese household will receive a gastronomy voucher worth up to 50 euros by post. The locations where the vouchers can be redeemed can be found under www.wienergastrogutschein.at.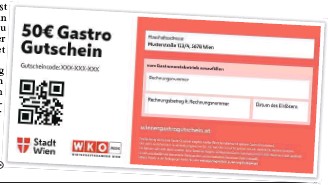 Receipts redeemable until the end of September
The vouchers can be redeemed at registered restaurants until the end of September. The cost of the action is estimated at EUR 40 million.
Security features such as a multi-digit code and UV marking are intended to prevent misuse. Printed on the voucher is the household address, but no name – so the voucher can also be donated or given as a gift. When paying, the voucher must be handed over to the repective restaurant operator, who will validate and retain it.
Only one receipt may be redeemed per invoice (cannot be cumulated). It applies to food and non-alcoholic beverages. A residual value will not be refunded, no cash redemption. The city transfers the exact amount of the bill (no tip) to the restaurant or coffee house operator. "The money should be on the account within a week", says a city councillor spokesman for finance, Peter Hanke (SPÖ). The 40 million euro campaign is intended to help the ailing industry.
— Hector Pascua, Informations gathered from vienna.at
This post has already been read 370 times!