Read Time:
1 Minute, 15 Second
On Tuesday the first Viennese households received a gastronomy voucher. These can be redeemed in around 2,000 restaurants until the end of September.
Nearly one million restaurant vouchers were sent to Vienna households on Tuesday. By Thursday at the latest, all 950,000 households in Vienna will have received one. The city wants to use the campaign to help the gastronomy industry get back on its feet after the "lock-down".
"We also want to express our gratitude to the people of Vienna as a sign of appreciation for the cooperation and solidarity in the past months," said Mayor Michael Ludwig (SPÖ) on Tuesday. He presented the gastro voucher together with the President of the Vienna Chamber of Commerce, Walter Ruck, in a restaurant in the fourth district.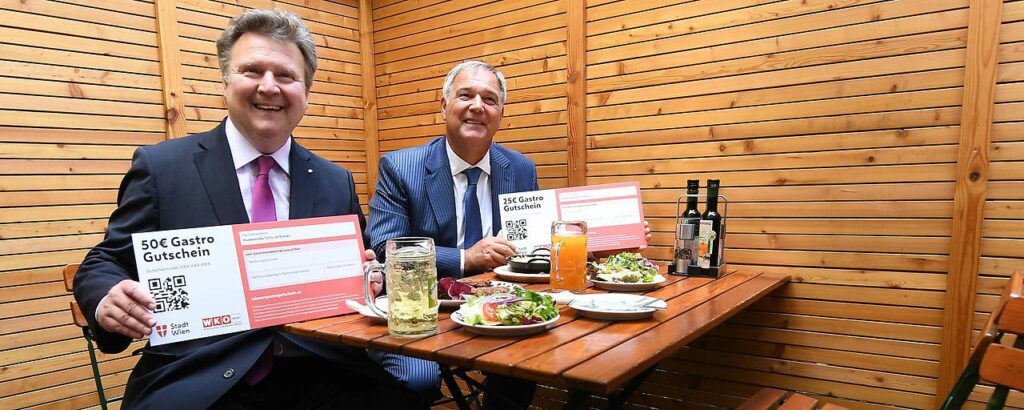 Starting Tuesday, 23 Juni 2020,  the vouchers can be redeemed already. They are valid until the end of September, but not for alcoholic drinks and cigarettes. Tips must also be paid extra. Single-person households receive a 25 euro voucher, households with more people a voucher worth 50 euros.
More than 2,000 restaurants
The voucher is not personal and can therefore be passed on. It is currently redeemable in over 2,000 locations.
According to the city, more than 6,000 Viennese businesses and 60,000 employees were hard hit by the coronavirus measures. Participating restaurants and establishments can be found at the website www.wienergastrogutschein.at.
— Hector Pascua
This post has already been read 448 times!