Read Time:
1 Minute, 24 Second
The "25 € and 50 € Gutschein"  as a dubious sales hit on the Internet?  Vouchers appeared on online platforms on the very first day. For 30, 35, even 50 euros. In some places, thieves have even broken into post boxes or robbed the voucher through the letter slot.
If one donates or give away the voucher to people in need is completely ok. Selling it is not forbidden, but it does not correspond to the actual idea of the city government's gesture of gratitude to the Vienna populace for their cooperation and solidarity during the difficult COVID 19 months. Stealing the voucher and leaving a trail of destruction behind is a clear crime. Austrian newspapers  report thefts in Hernals, Döbling and Favoriten.
Social media circulated pictures of broken and damaged mailboxes.
"Stolen vouchers" cannot be redeemed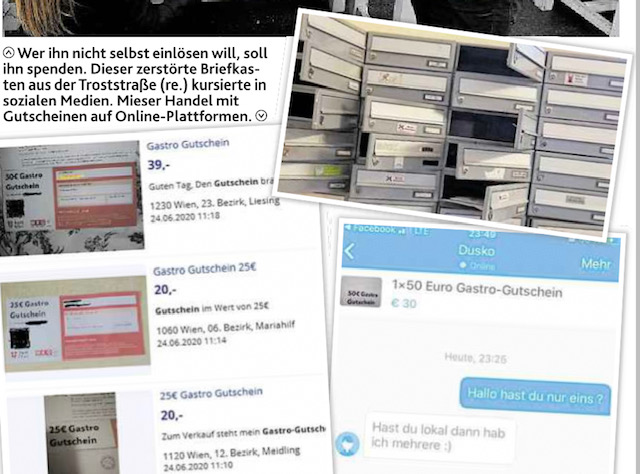 The city tries everything to prevent voucher robbers from capitalizing on their loot. "We are working closely with the police and have the addresses. Every voucher from broken mailboxes is blocked and cannot be redeemed," says Finance City Councillor Peter Hanke's office. This is important for buyers. The utmost caution must be exercised. Anyone who is not 100% sure about offers should keep their hands off them. The advertisements on common sales platforms sound tempting at first glance. 20 euros for a single voucher, the 50 coupon for 30 euros.
Theft victims receive replacement vouchers
Those who have been robbed will receive replacement coupons, it is said. The City of Vienna and the Chamber of Commerce have budgeted 40 million euros for the campaign. The voucher is valid for food and non-alcoholic drinks.
List of  participating restaurants can checked at: www.wienergastrogutschein.at
This post has already been read 297 times!