Read Time:
1 Minute, 12 Second
The coronavirus has mutated. The new  stem cell was first detected in China and can infect human cells more easily.
The corona pandemic continues to dominate our daily lives. According to a recent study published in the journal "Cell", a new stem cell of the virus infects human cells even more easily than the original pathogen from China. There are also indications that the mutated virus could also be more infectious. However, it is not clear whether this makes it more dangerous for humans.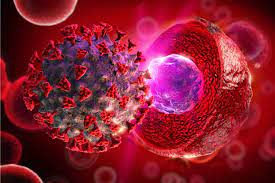 For the study, scientists from the Los Alamos National Laboratory in New Mexico and Duke University in North Carolina joined forces with a team of researchers from the University of Sheffield in the UK and analysed genome sequences of SARS-CoV-2.
Already in April they found out that the virus variant D614G infects more cells due to a single but decisive change in one protein.
Virologist Nathan Grubaugh of the Yale School of Public Health said that this would change very little for humans. However, the development of a drug or vaccine could very well influence it. "Let's not expect D614G to alter our control measures or make individual infections worse."
After criticizing their first study, the researchers did further research: As the data from 999 British patients showed, those with D614G carried more viral particles, but the severity of the disease remained unchanged.
— Hector Pascua
This post has already been read 198 times!