Read Time:
4 Minute, 25 Second
Vienna. Starting today, Thursday, 4. June 2020, Austria is restoring complete freedom of travel for almost all neighbouring countries – just as it was before Corona., Austria will abolish border and health controls with Germany, Liechtenstein, Switzerland, Slovakia, Slovenia, the Czech Republic and Hungary. Only Italy will remain subject to restrictions for the time being.
For the neighbouring countries other than Italy, the pre-corona situation will apply again – i.e. there will no longer be any quarantine or testing requirements on entry back to Austria. It is expected that the neighbouring countries affected by the opening of the border will also lift their entry restrictions in return. As these are national measures, the Foreign Ministry refers to the countries themselves. In principle, Austria has already agreed with Germany, Switzerland and Liechtenstein on a complete opening of the border as of 15 June, and with the Czech Republic, Slovakia and Hungary for mid-June.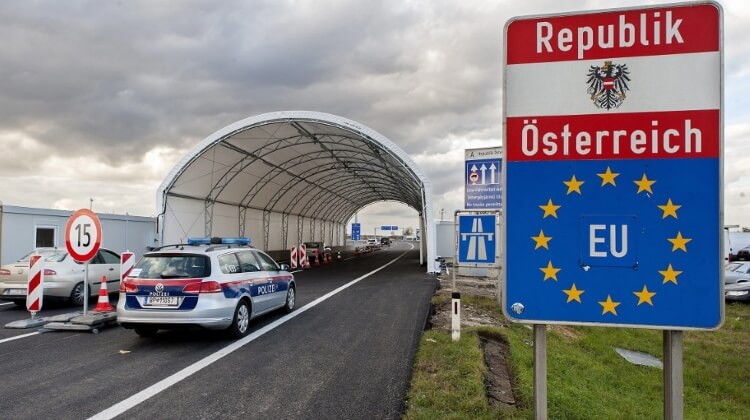 GERMANY, SWITZERLAND and LIECHTENSTEIN:
Only spot checks were carried out on the border with the three German-speaking neighboring countries, but so far there has only been one good reason for crossing the border. This includes visits of partners and relatives and important family occasions such as weddings, funerals or religious celebrations. Owners of agricultural, hunting or forestry land as well as persons who have to look after animals are also allowed to enter. The quarantine obligation does not apply. Even if entry into Austria from the three countries is possible freely from Thursday onwards, the restrictions there remain in place. A complete mutual opening of the borders is planned for 15 June. The Berlin cabinet has decided in principle to lift the worldwide travel warning from 15 June for the EU member states, Great Britain, Switzerland, Norway, Iceland and Liechtenstein and to replace it with travel advice.
ITALY:
Italy opened its borders to all EU, Swiss, British and Norwegian citizens on Wednesday, and completely lifted travel restrictions internally as well. Austrians can now travel to Italy without having to go into quarantine for two weeks afterwards. However, Austria does not yet want to go along with this; a travel warning issued by the Foreign Ministry continues to apply to the whole of Italy. Those returning to Italy must still show a negative PCR test or be in quarantine for two weeks. Austria is considering a selective opening for Italian regions which again show low infection rates. The situation will be evaluated next week.
SLOVENIA (and CROATIA):
Slovenia, too, has been waiting for a timetable to open its border with Austria. Now all travel restrictions for Slovenia will also fall. Since Tuesday the entry restrictions for citizens from EU and Schengen countries have been eased considerably. Tourists can enter without quarantine obligation if they can show an appropriate reservation. The same applies to owners of real estate, boats or airplanes in Slovenia. Transit through Slovenia is also free of conditions.
The onward journey to Croatia has been possible for Austrians and travellers from nine other EU states with low infection rates since the end of May. However, when returning to Austria, the quarantine obligation still applies or a negative corona test must be presented.
CZECH REPUBLIC:
Only spot checks will be carried out at the border between Austria and the Czech Republic. All border crossings are open again. However, strict restrictions on entry into the Czech Republic will remain in force until mid-June, and foreign tourists are not allowed to enter the country. Business travelers and Czechs must present a negative corona test on entry or be placed in home quarantine. Exceptions are made for commuting and commuter traffic, for family reasons worthy of consideration and for the care of animals. A complete mutual opening of the borders is planned for mid-June.
SLOVAKIA:
The border with Slovakia is also expected to be fully open again in mid-June. Austria has recently only carried out spot checks on the border and all border crossings have been reopened. However, Slovakia continues to carry out border controls and the strict entry restrictions still apply. Only persons with a residence permit, close family members in Slovakia or persons with a corresponding employer's certificate and staff of diplomatic missions are still allowed to enter Slovakia.
All persons entering Slovakia must also undergo a 14-day compulsory quarantine in a state quarantine centre. Since last week there is the possibility of home quarantine if it is electronically monitored by a smartphone app. The home quarantine then also applies to all other household members in the same accommodation. Before entering the country, online registration with the Slovakian Foreign Ministry is required.
Exceptions from the quarantine obligation exist for persons residing in Slovakia if they have spent less than 48 hours in Austria.
HUNGARY:
Restrictions on entry into Hungary will be lifted by mid-June. Up to now there are still border controls, Austria only checked at random. In Hungary, a strict entry ban applies to all those who are not Hungarian citizens or citizens of the European Economic Area (EEA) – i.e. the EU states plus Norway, Iceland and Liechtenstein – with a Hungarian residence permit. A general 14-day quarantine obligation applies to all persons entering the country. There are exceptions for commuters and transit traffic.
Hector Pascua, Information source: Austrian Foreign Ministry, Stand: 3. June 2020
This post has already been read 1510 times!