Read Time:
1 Minute, 21 Second
Federal President Alexander Van der Bellen posted a video on his Facebook page online on Friday, thanking doctors and nursing staff in hospitals and especially in intensive care units.
"Thank you for doing everything you can, day after day, for weeks and months, with great solidarity and the utmost dedication, to be there for those who need your help," said the head of state. Van der Bellen thanked "all doctors, intensive care nurses and all helpers in the intensive care units in Austria".
Even in normal times, the work in the helping professions in the hospitals "is already a real challenge. Now, in Covid 19 times, much, much more," says Van der Bellen. The constant efforts are great, as are emotional burdens. The Federal President said he wanted to express his gratitude, "expressly and most sincerely". Day after day, "for weeks and months", he said, the people there had been active with great solidarity and commitment. Van der Bellen also sent Christmas wishes and expressed the hope for a "different, better year 2021".
Health Minister Rudolf Anschober also thanked doctors and nurses in a video published on Instagram and Facebook. They would "do a particularly great job these days".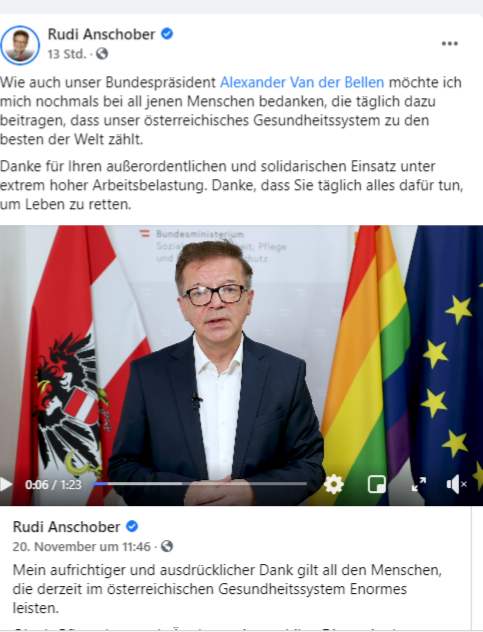 The pressure is enormous, he said, with a large number of Covid patients. "I know that wearing the protective clothing in particular is an additional enormous pressure and an enormous additional burden," said Anschober.
hp, Source: austria.ORF.at/agencies. Picture: Facebook Accounts: Rudi Anschober | Facebook and Alexander Van der Bellen | Facebook
This post has already been read 389 times!