Read Time:
1 Minute, 6 Second
Messenger drops support for iOS 9 with latest update.
Owners of old iPhones will soon have to do without Messenger WhatsApp. From version 2.21.50 of WhatsApp, iOS 10 or higher is a mandatory requirement. This means that the messenger says goodbye to the iPhone 4s, which cannot be upgraded to iOS 10. All those who still use such an old iPhone will therefore no longer be able to use the app.
About supported operating systems
We provide support for and recommend using the following devices:
Android running OS 4.0.3 and newer
iPhone running iOS 10 and newer
Select phones running KaiOS 2.5.1 newer, including JioPhone and JioPhone 2
Once you have one of these devices, install WhatsApp and register your phone number. WhatsApp can only be activated with one phone number on one device at a time.
Furthermore, there's no option to transfer your chat history between platforms. However, we provide the option to export your chat history as an email attachment.
At the end of iOS 9 support, WABetaInfo also writes: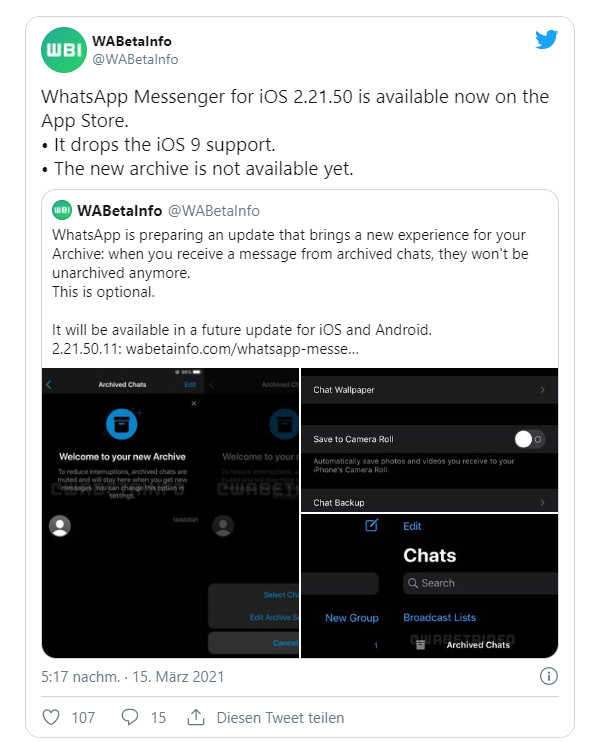 However, those who are still using iOS 9 should switch to a new system relatively quickly anyway. The last update was released in July 2019. Thus, the use can no longer be classified as safe.
source: futurezone.at/picture:pixabay.com
This post has already been read 216 times!