Read Time:
3 Minute, 52 Second
Vienna, 12 February 2022 – This year, one of the Filipino community's rare in-person gatherings took place on Saturday, 12 February 2022, at Salvatorianerplatz 1, 1100 Vienna, Austria. It was a fundraising event, "Unity for a Cause," for typhoon Odette victims in the Philippines. The event was spearheaded by Ms. Lolit Vendivil Kaszuba, former President of the Association of Novo Ecijanos (ANEA) for four consecutive years and one of the Hermana Mayors of the Bikol Society Austria (BSA) festivities in honor of Our Lady of Peñafrancia.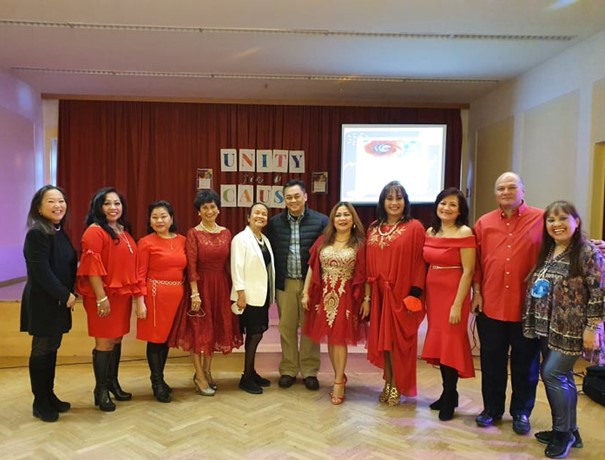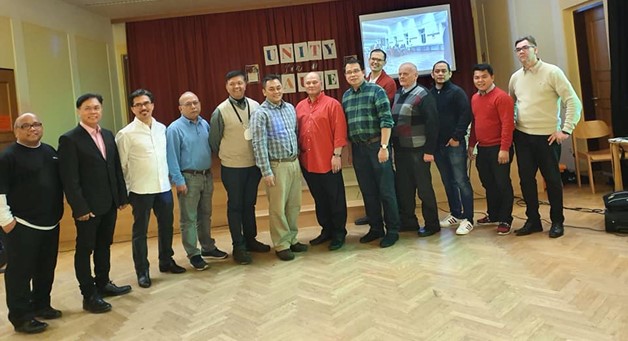 "Unity for a Cause" has been a signature event of Ms. Kaszuba to raise funds for typhoon victims such as Piping, Ondoy, Haiyan. As mentioned by Ms. Marizel Rojas, moderator, according to the Philippine Atmospheric, Geophysical, and Astronomical Services Administration (PAGASA), in 2021, there were 22 storms, nine typhoons, and five super typhoons (unofficial) which made landfall in the Philippines. It is excellent that the Filipino Community (FilCom), vibrant as it is, usually takes account right away to send support for immediate needs. But since the rehabilitation process takes a long time in affected areas, it is good that individuals and organizations undertake further actions, such as this fundraiser, to send help for sustainable projects related to livelihood. In this case, the aim is to purchase at least one boat for fishers in the Dinagat Islands, which will help at least 15 families who have lost their means of livelihood.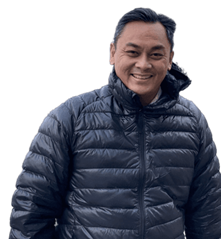 The program consisted of the Invocation by Fr Jovic Lobrigo, Inspirational Remarks by Charge d'Affaires a.i. Consul General Ivan Frank M. Olea, Sunshiners' dance numbers ("You are my Sunshine" and "Maria") and an open mic/open stage segment, wherein volunteers sang impromptu numbers, e.g., Salome R., Kathy S., LP M.
In his remarks, CdA Olea said that he is honored to attend the event, especially after hearing about the history of "Unity for a Cause," saying: "I have yet to meet Filipino organizations that do this regularly every time there is a natural disaster in the Philippines and they find a way to get together and contribute something." He also found it touching to know that proceeds would purchase boats for certain families. Being from the Government, he assured that the Philippine Government always helps in natural disasters. Suppose it is determined that the scale of the destruction requires outside help. In that case, the President informs different respective agencies in the Philippines to issue a call for help, where assistance in cash and in-kind from other countries is gratefully accepted. It was not deemed necessary to ask for external use for this case, but it is excellent for Filipinos worldwide. He ended his message by thanking everyone for coming together and ensuring that the Philippine Embassy will always be here to help the community. Finally, he reminded registered voters to cast their votes because every vote is essential.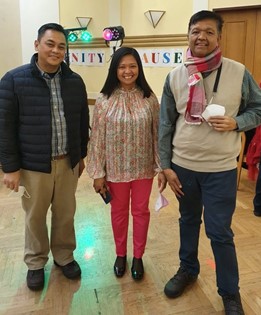 Although not all of the invitees came, due to the existing CoVid-19 situation, those who did represent FilCom organizations, both civic and religious, such as ANEA, Babaylan, BSA, Divine Mercy, DDS Europe, ENFiD-Austria, FAMA, Kakampink Austria, Legion of Mary, Loved Flock, Platin Ladies, Sunshiners, many coming from the two main Parishes, FCC & PGG. Notable, too, were the attendees from Burgenland, Linz, Voralberg, and Velden and the father and son, Peter and Stefan, staunch FilCom supporters and very generous with their contributions.
The event ended as planned, an evening to be remembered fondly, when Filipinos and friends of the Philippines, regardless of religion, regions of origin, and political affiliations, spent time together, united in a noble cause of helping our fellow citizens in need.
About the Author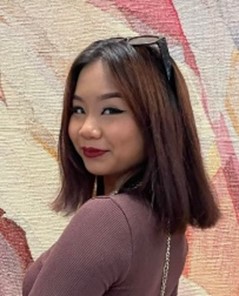 Currently taking up Communications and Social Sciences at Mater Salvatoris in Vienna, Austria, Sarah Jozelle Magistrado ROJAS is a product of a Bicolana-Zamboangeño union, born in Austria, typical Austro Pinay actively involved in the Filipino Community.
At 19, she is currently the President of the Young European Network of Filipino Diaspora Austria (YENFiD-Austria). She is also the Assistant Secretary of Biko Society Austria (BSA), a member of the Philippine-Austrian Cultural and Educational Society (PACES), a member of the Vienna International Centre Club Filipino (VIC CF), a member of the United Nations Women's Guild (UNWG) and a member of Green Heroes Austria. Recently, she discovered her interest in prose and passion for poetry.
E: sarahj.rojas@yahoo.com IG: bratsybits YT: Heart2Heart – YouTube
FB: Sarah Jozelle Rojas W: This is Sarah | Simply Sarah (wixsite.com)
This post has already been read 260 times!