Read Time:
1 Minute, 28 Second
Two powerful earthquakes have struck in south-eastern Türkiye and northern Syria. Thousands of people are confirmed dead across Türkiye and Syria, with numbers expected to rise. Amongst those affected inside Syria are Syrians who are still displaced in their own country and living in flimsy shelters, tents and partially destroyed buildings. In Türkiye, the impact includes thousands of refugees and the communities that have been generously hosting them for nearly 12 years.  
The earthquake has destroyed people's homes and local infrastructure—families urgently need relief items and shelter. Severe winter storms are sweeping through the region—families need urgent protection from icy winds, snow, and rain. 
Fil-com Austria has initiated a donation drive in coordination with Fil-com Turkey. According to Ms. Marjorie Guidangen-Akistoy, a Pinay community leader in Austria, several Filipino organizations in Austria pledged to support the action. Akistoy said that the drive is a voluntary one. She urges individuals or organizations in the community to support this drive.
There are about 248 Filipinos living in the earthquake-affected areas.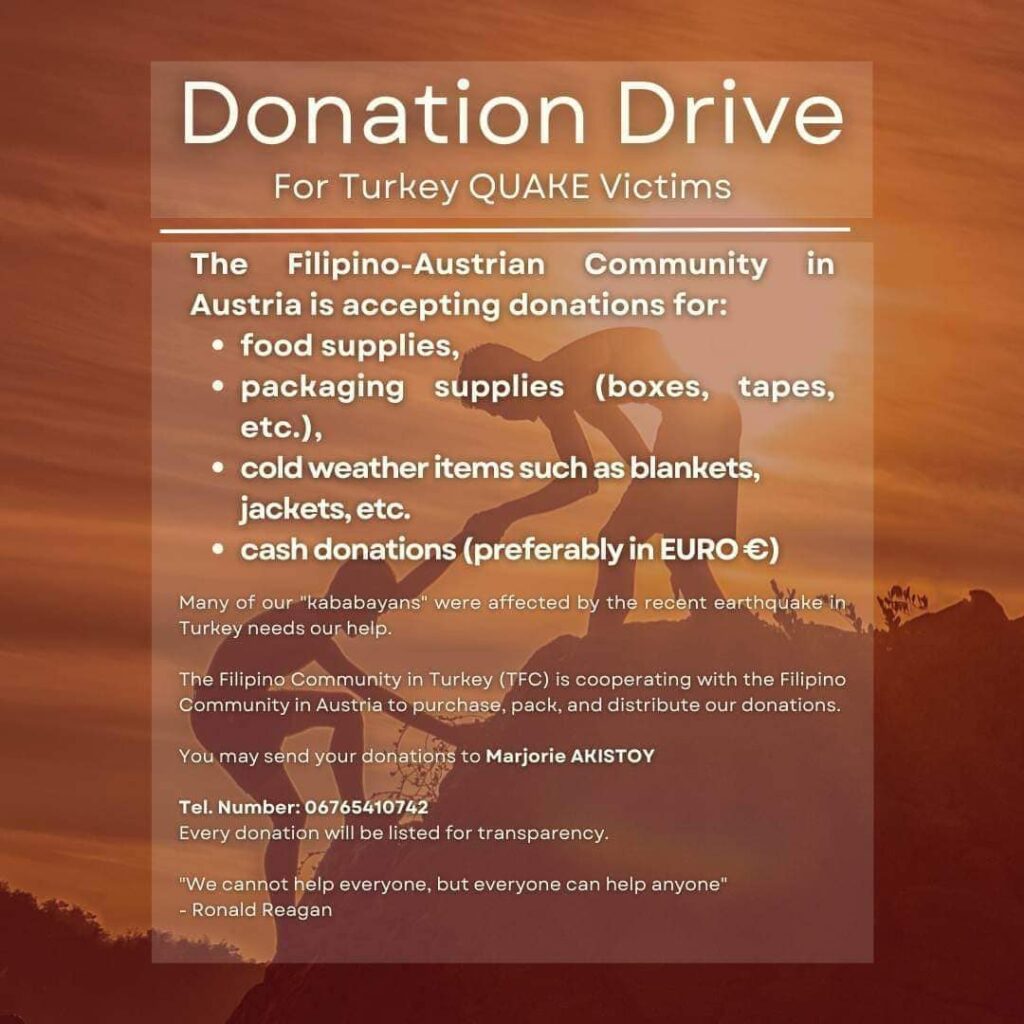 To date, pledges from Verein Filipina in Austria, Forderung der Philippinische Kultur und Folklore, Babaylan Austria, Filipino Assistant Movement in Austria, Council of Filipino Associations in Austria, Global Save Life Foundation, Cristina Moncado have pledged their donations.
"For transparency, every cent donated from each individual and organization will be documented and reported," Akistoy said.
There are around 4,006 Filipino in Türkiye based on the latest statistical data on foreign population by country of citizenship as of 2021. The Turkish Statistical Institute released the data on December 19, 2022. Based on Post's database, there are 248 Filipinos in the earthquake-affected provinces.
Please call Ms. Marjorie Akistoy for more details: 06765410742
hector pascua/picture: Marjorie Guidangen-Akistoy
This post has already been read 2240 times!