Read Time:
1 Minute, 0 Second

Vienna's U6 subway line is not running between Neue Donau and Floridsdorf stations for a few days in June.
"The U6 is being further modernized and will get new tracks at Floridsdorf station as well as a new turning facility," Wiener Linien said in a release Monday. The work would take place on two weekends in June. The U6 will not run between Neue Donau and Floridsdorf stations from June 9, 10 p.m. to June 11, end of service, and from June 16, 10 p.m. to June 18. "Passengers can switch to streetcar line 31 between Jägerstraße and Floridsdorf stations or to the S-Bahn between Handelskai and Floridsdorf. At night, lines N29, N31 as well as the S-Bahn are available," the statement said.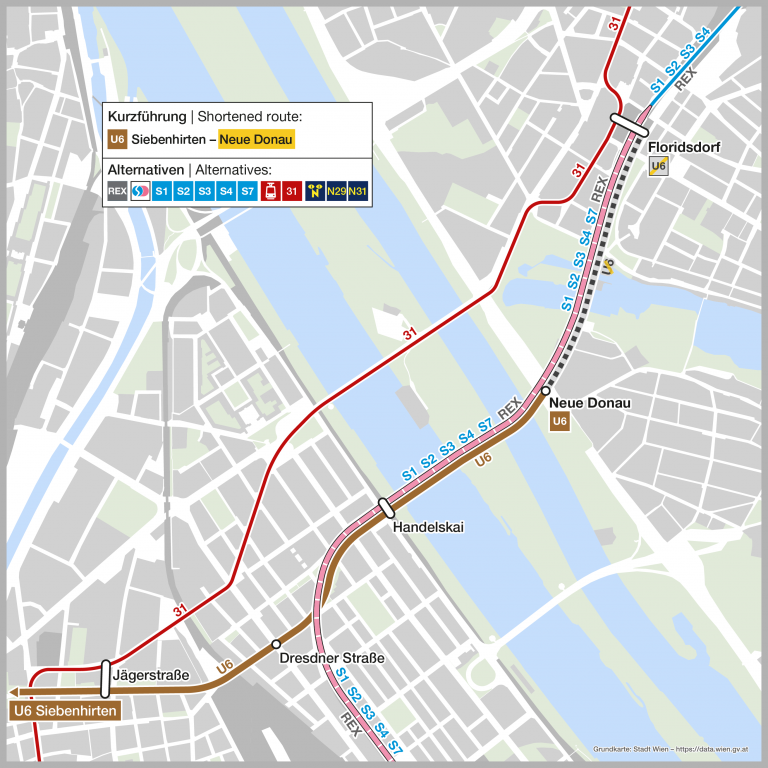 Elsewhere, certain Bim lines will not stop from June 3 to September 3 inclusive. Affected are the station Matzleinsdorfer Platz and the streetcar lines one direction Stefan-Fadinger-Platz, 18 direction Burggasse, Stadthalle, 62 direction Lainz, Wolkersbergenstraße as well as the Bahdner Bahn direction Baden, Josefsplatz. The reason for the stops is construction work for a U2 lift at Matzleinsdorfer Platz.
This post has already been read 429 times!