Read Time:
2 Minute, 7 Second
The Vienna Danube Island Festival 2023 – from June 23 to 25, 2023 – festival area stretches over a length of 4.5 kilometres from the North Bridge in the west to the Reichsbrücke in the east of the Danube Island. In four areas and on 13 stages, visitors to the Donauinselfest will be offered an extensive music programme and an action-packed sports and leisure programme. Here you can find the Danube Island Festival Plan 2023, with an overview of all the stages on the Danube Island.
We recommend public transport when travelling to the 40th Vienna Danube Island Festival. The festival site on Danube Island is easy to reach, especially with the U6, the U1 and the Schnellbahn. The U1 stops directly on Danube Island and is perfect for all visitors who want to visit the eastern part of the festival grounds.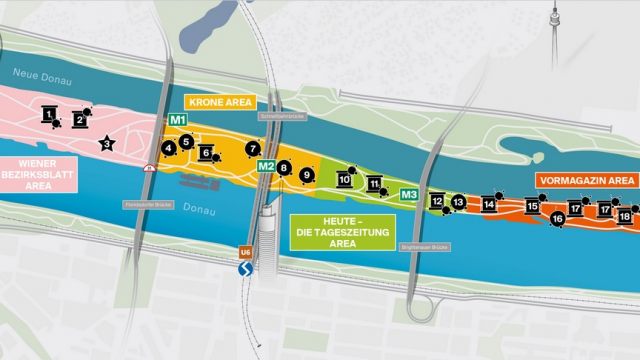 As can be seen on the map, the central and western parts of the Vienna Danube Island Festival can be easily reached via the U6 and the Schnellbahn. It is only a few minutes walk to the site via the Schnellbahn Bridge. The following areas are marked in the Donauinselfest plan 2023:
Wiener Bezirksblatt Area (pink)
Krone Area (yellow)
Heute – Die Tageszeitung Area (green)
Vormagazin Area (orange)

Wiener Bezirksblatt Area
Bank Austria/Ottakringer Brewery/Radio 88.6 Rock Island and Bank Austria/Radio 88.6 Rock Stage
Peace Island and Peace Stage
Organisation Centre and "Anything can be done with OBI."
Crown Area
Wien Holding Recruiting and Floridsdorf Island
Bank Austria Edelstoff pop-up design market
Wien Energie/Radio fm4/Radio Wien/Hitradi Ö3 Festival Island and Wien Energie/Radio fm4/Radio Wien/Hitradi Ö3 Festival Stage and Fisherman's Friend Bagjump
Wiener Städtische Insurance/Safe Vienna Island
Austrian Lotteries Sports Island
Action & Fun Island

Wiener Städtische Versicherung Schlager Island and Vienna Airport/Radio NÖ Schlager Stage
Okidoki Kinderfreunde Island and Okidoki Kinderfreunde Stage
Advice Island powered by Wien Holding
Pre-magazine Area
Austrian Lotteries/ÖRF III Culture Island and ORF III Culture Tent
W24 Heurigeninsel and W24 Wiener Heldinnen and Liedkunst Stage
Wien Holding Recruiting and Brigittenau Island
Stiegl/Clubkultur Island and Stiegl/Bettel-Alm Mega Stage and Clubkultur Stage powered by DECK
Arbeitsweltinsel and GPF Stage and FSG-GÖD/ARBÖ Radio Stage and younion-fsg Stage powered by BAWAG-VÖS
The plan for the Donauinselfest 2023 is also available online under "Island Plan." All information and the entire programme can be found in our unique on the Donauinselfest 2023.
This post has already been read 1537 times!