Read Time:
4 Minute, 43 Second
The Council of Filipino Associations in Austria kicked off the 2023 Barrio Fiesta in Vienna on Saturday, July 22, 2023. The annual event is a celebration with colourful costumes, song and dance at the  Sportplatz ATV Liesing, Vienna.
About 2,000 Filipinos, Austrians and nationalities from Austria trooped to the venue this year.
The 2023 Barrio Fiesta in Vienna simulated the mood of a traditional Filipino fiesta celebration in a festive gathering of special guests, police, politicians, community leaders and members, and the Philippine Embassy and staff who led the opening ceremonies with a parade of colourful Filipino costumes and entertainment.
The "Our Lady of Sorrow Singers "likewise led the participants in singing the Philippine National Anthem.
Performances from different organizations and several bands followed the opening ceremonies.
Beginnings
Beginning in the early 90s, the Barrio Fiesta celebration in Austria sought to educate the Filipino community about the richness of Pinoy culture.
Each year the event has become increasingly popular.
Thousands of  Filipinos from all over Austria attended the spectacle of typical Filipino parades and dances. Decorated booths that exhibited native delicacies and products, which are testaments to Filipino artistry, lined the event venue.
Ray Arreza, Chairman of the Council of Filipino Associations in Austria, said the purpose of Barrio Fiesta is to show unity and express our Filipino heritage to inform the rest of the Filipino community in Austria.
"We are celebrating today the annual Barrio Fiesta in Austria. Each year our  celebration  gets bigger and bigger. We are very proud to have reached this milestone. I believe we've been able to sustain it because we have the most generous sponsors and "kababayans" in Austria who have been supporting us for years," Arreza said.
"A warm- welcome here in our beautiful district, Liesing. It is lovely and wondrous that an event like this occurs today in our community—an event where different cultures meet each other as a sign of solidarity. Thank you so much for the invitation, and we wish you a lovely and wonderful celebration," Kira Höfenstock, member of the Liesing District Parliament, said. Ing. Wolfgang Ermischer- Bezirksrat, Vorsitzender der Kulturkommission, Büroleiter der Bezirksvorstehern Liesing likewise graced the event.
"I am delighted that you bring Filipino feeling here in Liesing. Thank you for this wonderful cultural celebration," the  District Director said.
Ambassador to Austria Evangelina Arroyo-Bernas noted that the Filipino Barrio Fiesta in Vienna showcases Filipinos' unique cultural heritage through food and delicacies, music, cultural performances, arts, games, and parade.
The Ambassador affirmed that the Barrio Fiesta celebration promotes greater understanding and awareness of the Philippine culture, heritage, talents and arts diversity and encourages everyone to celebrate Austria's multicultural society!
For many Pinoy families,  the Barrio Fiesta was a chance to expose their youth to their country's culture.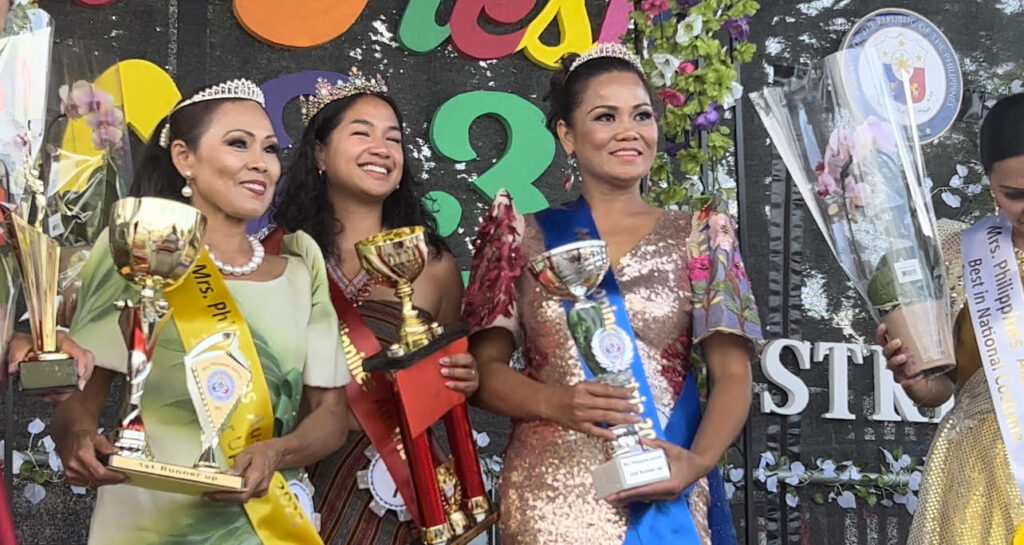 Search for Mrs. Philippines-Austria – Highlight the event
The Search for Mrs. Philippines-Austria 2023 was the highlight of the Barrio Fiesta 2023. Seven mothers vied for the title. The following are the winners of the show:
a) Ms. Margarita Chou – Mrs. Talent
b) Ms. Necitura Esterl – Mrs. Friendship
c) Ms. Ana Gratz – Best in National Costume
d) Ms. Mila Amboy – Best in Evening Gown
Ms Esperanza Obra Fabok – 2nd Runner Up
Ms. Anastasia Waitzbauer – 1st Runner Up
Ms. Helen Magbual – Mrs. Philippines-Austria 2023
The pageant showcased the beauty and cultural heritage of the Philippines. The event aims to unite all the Filipino-Austrian Associations in Austria.
Awarding of Plaque/Certificate of recognition to young & promising Filipino-rooted athletes in Austria ( Diff. arts & sports )
The Philippine Basketball in Austria and Philippine Volleyball in Austria honoured Filipino-Austrians who excel in different sports. The Certificate of Recognition was awarded to each of them through the initiative of PhiVA, PhiBA; several Filipino registered sports clubs in Austria and CFAA in coordination with the Philippine Embassy in Austria. Below are the awardees:
American Football – Marvin Benedikt Acenas
Basketball – Dean-Leon Cordero
Raphael de Guzman – Billliard
Bowling – Charmaine Mirontos
Emilia Christine Balisi – Gymnastics
Mountain Biking – Filipino Mountain Bikers
Volleyball – Haczay Family – Toni, Jinky, and 4 Children – competing on European Invitational Leagues and Local Leagues
Dart – Rowby Rodriguez – Austria representative at European and World Champion
Football- Daniel Mahiya – Rapid Austria Player
Austria National Player U 16
Tennis – Anthony Ilagan, 21 years old- Austria Local League's Champion
Swimming – Alisa Pascual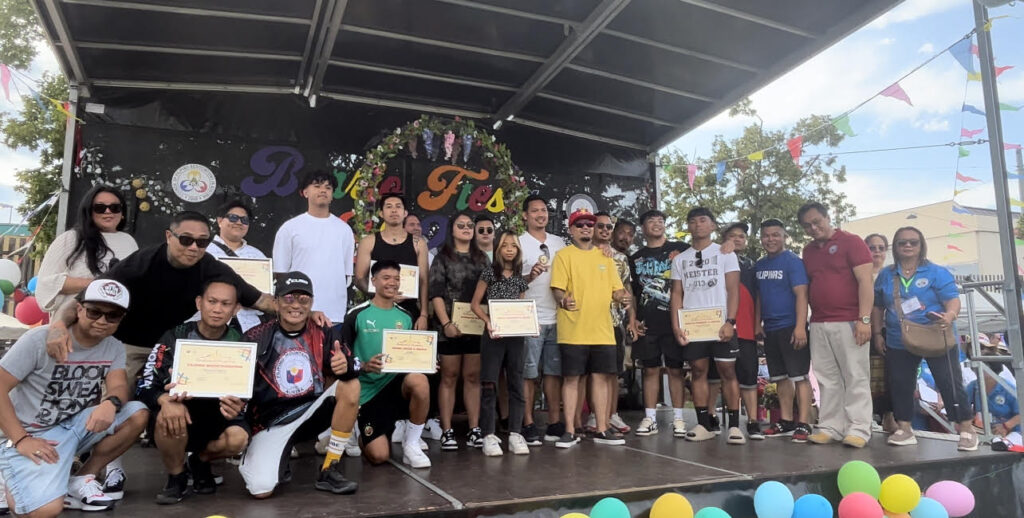 Filipino business establishments
The Barrio Fiesta celebration is also a chance for Filipino companies to market or promote their products. Businesses from the Philippines and Austria had stalls to sell products and services.
Food stalls were packed, with queues of hungry festival-goers discussing their food choices. Plenty of stalls provided Filipino food and delicacies, such as adobo, kare-kare, menudo, dinuguan, kaldereta, bangus and pancit. Native desserts included puto, biko, suman, sapin-sapin, bibignka and halo-halo.
The Barrio Fiesta draws Filipinos from all over Europe who come to celebrate their culture and some hope to emulate the fiesta in their respective home bases.
"This is one of the biggest  Filipino events in Austria and is the best chance to be with Filipinos here. I came here to be with them and celebrate our heritage, "a Pinoy participant said.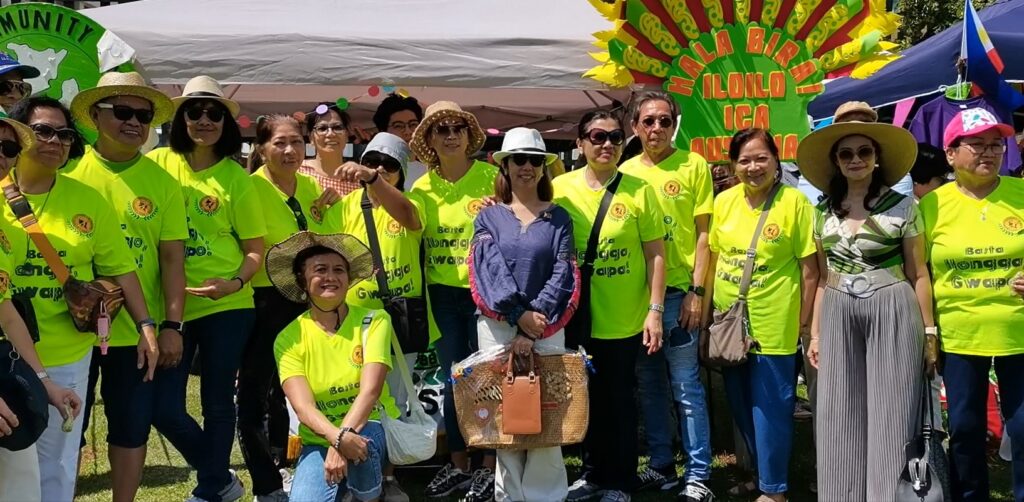 Malou Morata, Pinay leader in Austria and one of the emcees during the event, contended that the Barrio Fiesta is a chance for the Filipino Community to come together, allowing old and new generations of Filipinos abroad to delight in the richness of their country and preserve their sense of cultural community in Austria for years to come.
This year's Barrio Fiesta included more than 50 Filipino organizations and establishments.
text/pictures: Hector Pascua
This post has already been read 2767 times!