Read Time:
1 Minute, 19 Second
Bayern Munich clinched its sixth European title after beating Paris Saint-Germain 1-0 in the Champions League final in Lisbon on Sunday.
Despite all the attacking talent on display, one goal was enough to separate the two sides with former PSG man Kingsley Coman heading in the winning goal in the 59th minute.
Coman, a French international, guided his header into the bottom corner to add yet another trophy to his cabinet.
Comfort for Neymar
David Alaba, one of the leading Bayern Munich player showed human greatness after the final whistle, his first way led him to the crying Neymar, whom he comforted for a long time!
"It was a super season, not easy. But we also worked hard during the Corona break, and then we earned our reward. I am happy and fortunate to have been able to experience this. As a team we are a great unit, which includes everyone, including the substitutes," said the proud Austrian. Alaba has a Filipino background. Her mother Gina Alaba comes from the Philippines.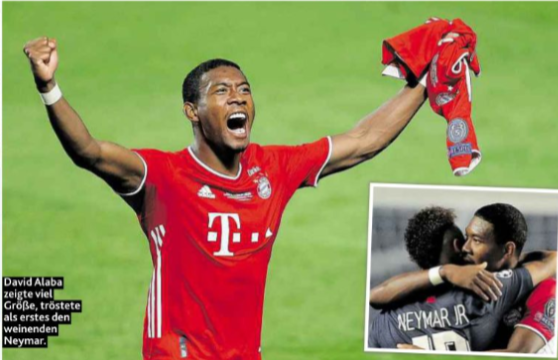 Austrian's Football legend Herbert Prohaska wrote in his Kronen Zeitung column on Monday, 24 August 2020: "Of course I am especially happy for David that he won the title as an Austrian. Now the second title in the Champions League has been added to his already impressive collection of titles. He is the most successful footballer we have ever had in Austria. Great respect for that."
Hector Pascua with reports from News Agencies
Picture: Kronen Zeitung, 24 August 2020, Sport
This post has already been read 205 times!