Read Time:
3 Minute, 31 Second
It is with great sadness that I learned of the passing of a good friend – MANUEL SARMIENTO. The Philippine Press/Austrian Press extends its deepest condolences to Ka Manny`s family at this difficult time. Ka Manny your friends mourn with you and celebrate the extraordinary life of your remarkable contribution to the upliftment of the rights of the Filipino workers.
Below are some postings on the Facebook Wall of Manuel Sarmiento, extending their condolences and at the same time paying tribute to Ka Manny's Legacy as a leader.
"Still in shock and disbelief, we are deeply aggrieved to inform you that Manuel "Ka Manny" Sarmiento, suddenly but peacefully passed away today, the 11th of December 2020. Ka Manny served as the Chairperson of Migrante Austria since its founding in 2014. While in the Philippines, he served as President of a local union (Nestle) (1976 to 1986) and also as President of a National Federation of Unions in Food and Allied Industries (1987 to1994). He was a member of the National Executive Committee of the militant Kilusang Mayo Uno (KMU) Labor Center from 1994 to 2002. He came to Austria in 2004, and was assigned by Migrante International as a liaison staff and in 2005 he assisted in founding Pinoy in Austrian Society for Integrity and Social Transformation (PINAS FIRST). Up until his death, Ka Manny worked with a company offering mailing and printing services while organising, mobilising and issuing statements of concern regarding the issues of migrants and refugees, recently within the framework of the April 28 Coalition, of which he was a founding member. Ka Manny was a fervent advocate of democracy and human rights. We at Migrante Austria would like to express our heartfelt thanks and appreciation for the years of comradeship we have shared. It has been a privilege and an honor to work with Ka Manny.Long Live Ka Manny and his legacy! Forward to justice and peace! Migrante Austria" – Michael Garlan, Migrante International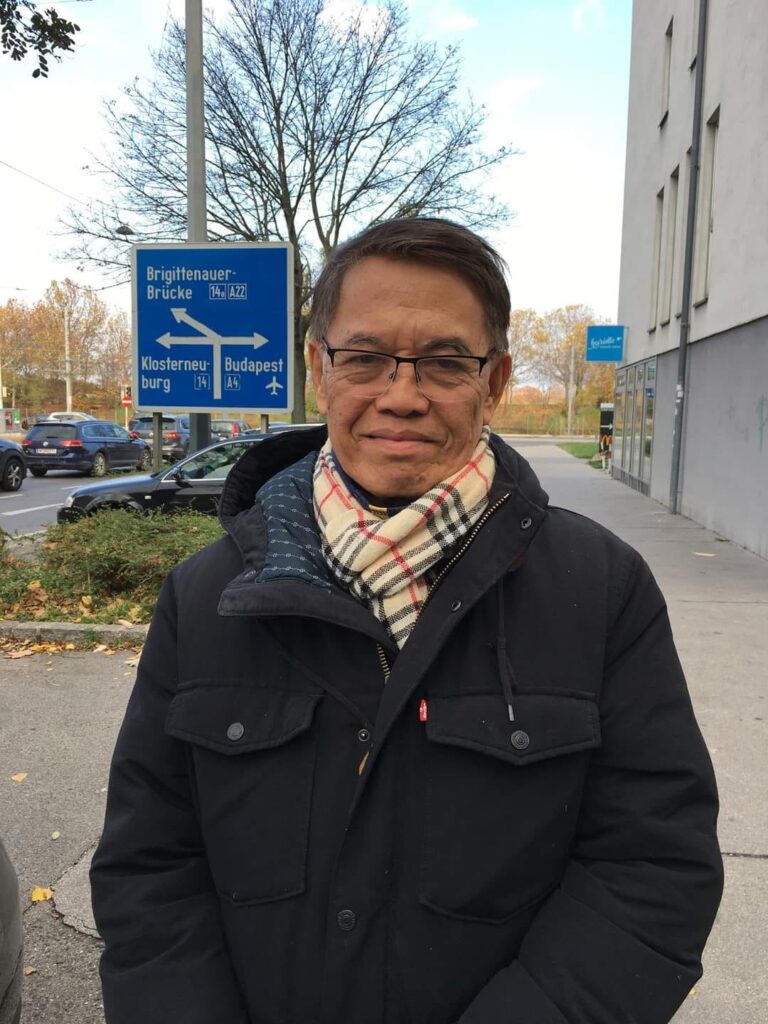 "I lost a former boss and comrade in Ka Manny Sarmiento. He was a principled, selfless man who worked for workers and migrants all his life. He left a comfortable life as accountant to organize workers in Nestle and eventually led Drug, Food and Allied Industries labor federation. He endured years of separation from his family who left for abroad to serve the workers for many years and served as KMU Secretary General where I met and worked with him. If you have certain ideas of what an activist is, he is not that and more. Maka-Diyos, Maka-bayan, Maki-kapwa. He was the labor center's quiet strength, voice of reason and moderation but a tower in grim determination and commitment. I last met him four years ago in Rome and he expressed happiness in our meeting. We had so much fun exchanging stories about our lives. He has since then joined his wife and son in Austria where he continued his work for the Filipino workers in Migrante Austrian. I will miss him. I salute and honor his lifetime work and commitment to the Filipinos. The world is better with him around. I send my condolences to his family and to thank them for sharing this great man with us. Rest in peace, Ka Manny Sarmiento. Mabuhay ang sambayanang Pilipino! – Macel Ingles, Oslo
Good people die everyday. Yet not all of them affirm for us the goodness in humanity and leadership the way Ka Manny did. He passed away on 11 December 2020 and left a legacy of positive experiences for anyone who took the time to know him – which wasn't a hard thing to do. Most likely you don't know Ka Manny but you can learn from the legacy he left.
It seems trite to say that MANUEL SARMIENTO will be missed, or that he went away too soon. But it's true. The bottom line is that he was a great leader. And when you pulled back the curtain of all that entails, you can also see that he was also good person who cared about others. We can all learn a lot about leadership and humanity by following his example.
— hector pascua
This post has already been read 1236 times!