Read Time:
2 Minute, 28 Second
From April 1 to 6, Corona measures will be tightened in the provinces of Vienna, Lower Austria and Burgenland. All regulations of the Easter lockdown in Eastern Austria at a glance.
Eastern Austria goes into Easter lockdown
The federal government agreed Wednesday evening with the three eastern provinces of Vienna, Lower Austria and Burgenland on stricter measures to contain the Corona pandemic.
The details of the tightening measures announced by state governors Johanna Mikl-Leitner (ÖVP), Michael Ludwig and Hans Peter Doskozil (both SPÖ) together with Health Minister Rudolf Anschober (Grüne):
Exit restrictions
Over Easter, curfew restrictions will again apply around the clock, as in the previous strict lockdowns. Currently, leaving the house only at night is not allowed in principle. From April 1 to 6, this will once again apply from 0 a.m. to midnight – with the familiar exceptions of driving to work, staying or recreating outdoors (such as walking or individual sports), caring for persons in need of support and averting danger.
Contacts
Contacts are permitted on a very limited basis during the Easter Lockdown, as they have been during previous "hard" periods. What is allowed is that only one individual of a household may meet several individuals of another household at the same time. Easter lockdowns are therefore only possible on the smallest scale.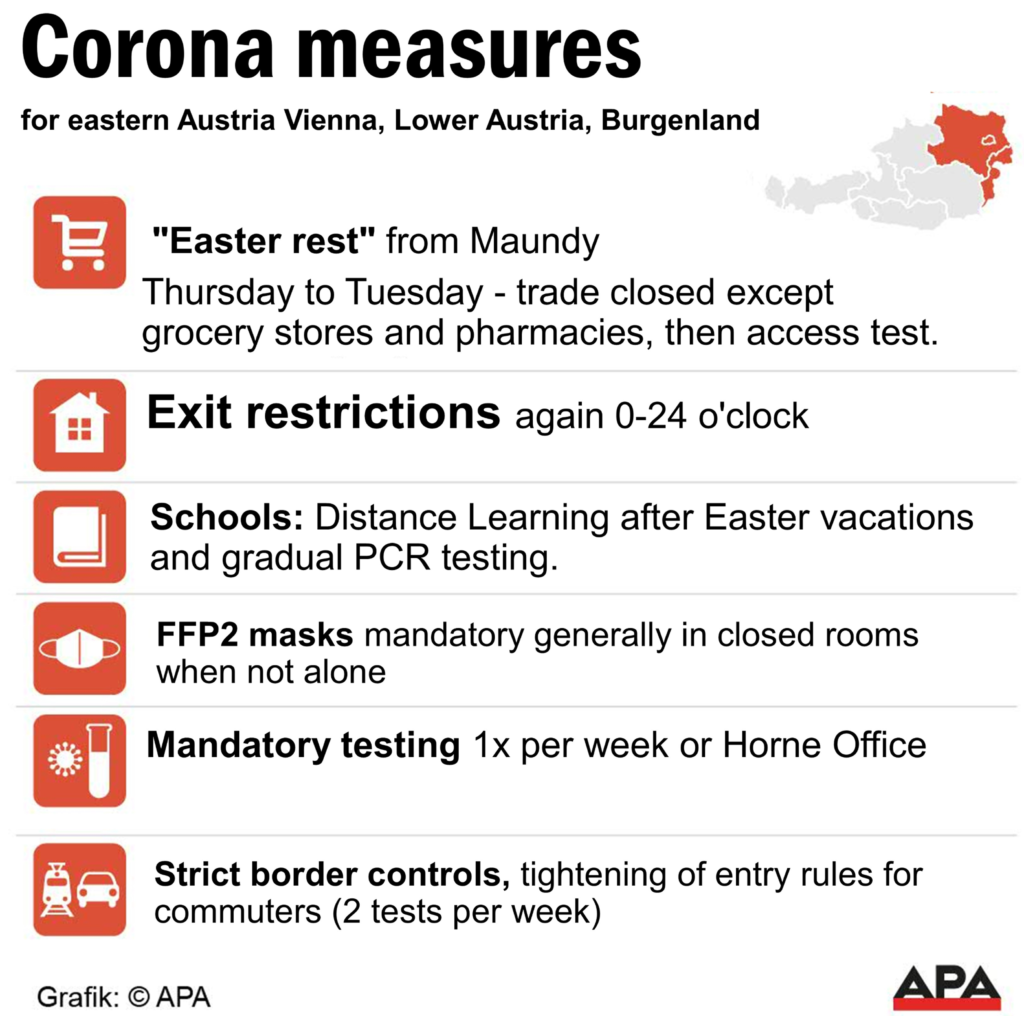 FFP2 mask obligation
The FFP2 mask obligation is to be extended to all indoor rooms, provided that more than one person is present there. Also the already existing possibility to order locally limited FFP2 mask obligation outdoors, in areas where many people meet in a small space, is now to be applied.
Commerce
Stores will be closed from April 1 to 6. Exceptions are the goods of daily life – grocery stores, pharmacies, tobacconists and the like will remain open. Then, from April 7, there will be access tests for trade, but not for the basic services mentioned above. According to the office of Johanna Mikl-Leitner, however, this test requirement in the trade will remain only until April 10.
Hairdressers
Personal service providers such as hairdressers or beauticians – where testing is already mandatory – will also be closed from Maundy Thursday until the Tuesday after Easter.
School
Schools will resume Distance Learning the week after Easter. After that, widespread PCR testing for students and teachers is planned, although it will not be an admission requirement for returning to classes.
Operations
Coronatests are to be held in the workplaces once a week starting April 7. Home offices are to be further intensified as an alternative.
Commuters
Workers commuting to Austria from the neighboring countries to the east, the Czech Republic, Slovakia and Hungary, will have to show a negative Covid test twice a week instead of just once as is currently the case. More checks are to be carried out at the borders.
Culture, leisure facilities
Museums and exhibition houses in the eastern region will have to close between April 1 and 6. The same applies to zoos and other leisure facilities.
— source: APA/Graphik: APA
This post has already been read 313 times!