As of May 19, entry restrictions for many EU countries will also be eased. Nevertheless: traveling remains complicated.
Starting May 19, 2021 Austria will relax entry restrictions for many EU countries. This will make it easier for foreign guests to come to Austria, but it will also be easier for Austrians to travel due to the elimination of the quarantine requirement when returning from most EU countries. However, many countries continue to have entry restrictions of varying severity for Austrians. Travel thus remains rather complicated for the time being.
Entry rules are based on the Corona traffic light of the ECDC (European Centre for Disease Prevention and Control)
Austria bases its entry rules on the Corona traffic light of the EU health agency ECDC. From countries, which are colored green or orange on the ECDC map, the entry is to be possible starting from 19 May condition-free. For entry from (light) red areas, a negative corona test or proof of corona vaccination or recovery after corona infection will be sufficient in the future. For those entering from dark red areas, on the other hand, the ten-day quarantine requirement after entry will continue to apply with a free test from the fifth day. It is not yet clear whether the classification will differentiate by region, as the EU health agency does.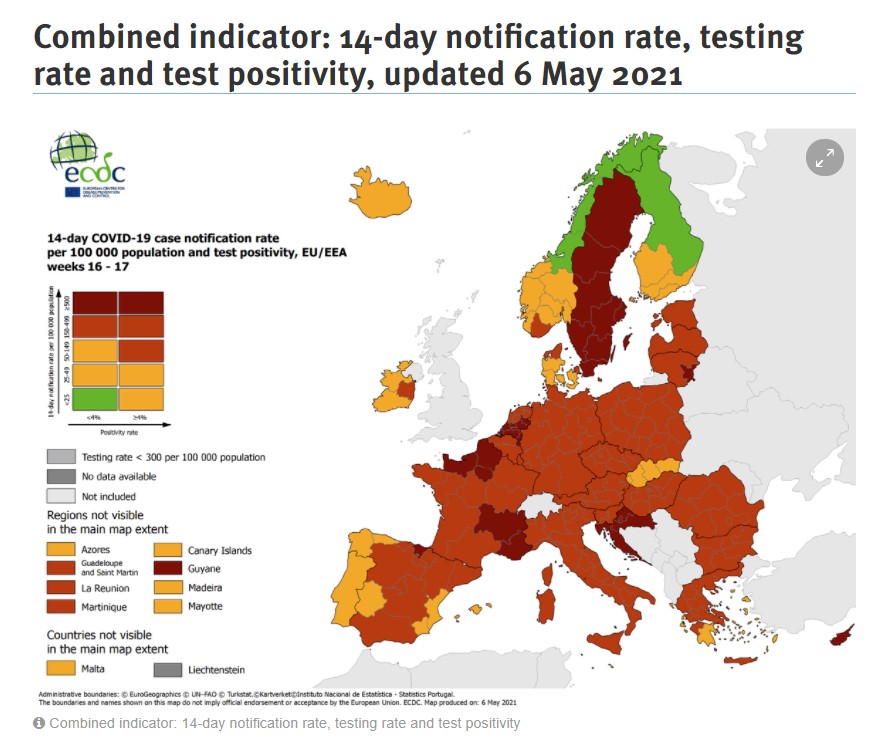 Different requirements in EU countries
From the current point of view, it will be possible to enter the country from Finland, Iceland, Portugal and Malta without any restrictions as of May 19. The current quarantine requirement for Belgium, Bulgaria, Denmark, Germany, Estonia, Greece, Ireland, Italy, Latvia, Luxembourg, Norway, Romania, Slovakia and the Czech Republic will also be dropped. When entering the country from these countries, a negative coronary test or proof of vaccination for vaccinated and recovered persons is sufficient. It is expected that quarantine will continue to be required after May 19 after entry/return from France, Croatia, Lithuania, the Netherlands, Poland, Sweden, Slovenia, Spain, Hungary and Cyprus. Here, the 14-day incidence is more than 500 in some regions or nationwide.
Entry restrictions remain in place in many countries
When traveling, however, it should be noted that there are still entry restrictions in numerous countries. In most countries, persons entering from Austria are subject to the requirements of a negative coronation test, and in several countries there is also a mandatory quarantine after entry. Some countries do not yet allow entry for tourists at all. Only in a few countries there are exceptions for vaccinated and recovered persons. An overview of the regulations currently in force in European countries:
CONDITION-FREE ENTRY FOR AUSTRIANS:
Albania, Luxembourg (only if entering by land) and northern Macedonia.
MANDATORY TESTING WITHOUT ADDITIONAL MANDATORY QUARANTINE:
Andorra (for stay of three days or more), Bosnia-Herzegovina, Bulgaria (test, proven survived infection or complete vaccination), France, Greece (PCR test or vaccination certificate – 14 days after complete vaccination), Kosovo, Croatia (test or proof of passed through infection or 1. Vaccination dose at least 14 days ago), Luxembourg (if entering by air), Malta, Monaco, Montenegro (test, proof of antibodies present or complete vaccination at least seven days ago), the Netherlands (entrants from Austria are currently urged to go into home quarantine for ten days. This requirement is expected to be changed to mandatory quarantine starting May 15), Poland, Portugal (Azores and Madeira), Sweden (seven-day self-quarantine is recommended), Serbia, Slovenia, Spain, Turkey, Ukraine, Cyprus (another PCR test may be ordered at random upon arrival, and home quarantine is mandatory until test results are received).
QUARANTINE REQUIREMENT FOR ENTRANTS FROM AUSTRIA:
Belgium: entry from Austria requires a negative coronal test not older than 72 hours and must enter a mandatory quarantine of at least 7 days.
Denmark: A negative COVID-19 test no older than 48 hours must be presented upon entry. In addition, a rapid test and a ten-day quarantine must be entered upon arrival at the airport. A free test is possible after four days at the earliest.
Germany: Austria is considered a risk area. Those entering the country require a negative coronary test and must enter domestic quarantine for ten days after arrival at their destination. Free testing is possible on the fifth day after entry at the earliest.
Estonia: Persons entering Austria must present a negative PCR test and complete a ten-day home quarantine. Free testing is possible after six days at the earliest. Vaccinated or recovered persons are exempt from the quarantine requirement.
Great Britain: Upon entry from Austria, a negative PCR test or antigen test with more than 97% specificity must be submitted, and a ten-day quarantine must be taken. Free testing is possible after five days. In addition, entrants must undergo testing at their own expense on the second and eighth day of quarantine (even in the case of free testing on the fifth day).
Ireland: Austrians must present a negative PCR test not older than 72 hours upon entry. In addition, they would have to complete a 14-day quarantine, free testing is not possible.
Iceland: entrants must register online, present a negative PCR test no older than 72 hours, and enter a five-day quarantine. In addition, a second test upon arrival and a third after five days are mandatory. Exempt from quarantine are those who can present an international vaccination certificate or a certificate of having survived an infection. Nevertheless, a Covid test must be performed upon entry.
Italy: In Italy, Austrians and other EU citizens must currently still present a negative PCR or antigen test no older than 48 hours upon entry and enter a mandatory five-day quarantine. The quarantine is ended with another coronal test. These entry rules are provisionally in effect until May 15. The Italian government has announced that the quarantine requirement will not be extended.
Lithuania: In addition to registering online and presenting a negative coronatest no more than 72 hours old, entrants must also undergo a ten-day quarantine. Free testing is possible after seven days. Exceptions exist for fully vaccinated persons or persons who have demonstrably undergone a corona infection.
Romania: In addition to the negative PCR test, persons arriving from Austria must undergo a mandatory 14-day home quarantine. Exceptions apply for stays of less than 72 hours, as well as for fully vaccinated persons.
Switzerland and Liechtenstein: Travelers from the provinces of Upper Austria and Salzburg must present a negative coronal test and complete a ten-day quarantine. Free testing is possible in Switzerland from the seventh day at the earliest, not in Liechtenstein. This does not apply to entrants from other federal states. For air travel, all entrants must present a negative PCR test.
Slovakia: Entry into the country is compulsory and requires a 14-day home quarantine; free testing is possible on the eighth day at the earliest.
Belarus: A negative PCR test is required upon entry and a ten-day home quarantine is mandatory.
ENTRY FOR TOURIST REASONS NOT PERMITTED AT THIS TIME: Finland, Latvia, Norway, Portugal (mainland), Russia, Czech Republic and Hungary.
This post has already been read 150 times!