Read Time:
8 Minute, 14 Second
By: Roman Moreno
It has been more than a year since the world was devastated by the pandemic. As every nation adapts to the new normal, there's no stopping the Filipino-Austrian community led by ENFiD-Austria to become a game-changer as it held three important events in one big night.
During the cold summer breeze in Vienna, a 3-in-1 event was organized by the European Network of Filipino Diaspora Austria (ENFiD-Austria) to celebrate Filipino-Austrian relations, honor frontliners and showcase Philippine fashion last 10th of September 2021. The entire show did not fail to fascinate the guests, at par with the grandeur of the Palais Niederösterreich. More importantly, this social gathering was meant to give back to the homeland through its beneficiary, the Childhope Philippines Foundation. It is a non-profit organization that fosters street children who have no access to basic needs across Metro Manila.
Mr. Vincent Bueno, Eurovision 2021 contender and a Pinoy Pride, performed his latest single entitled "Amen." The program was divided into three segments wherein each one had some elements of the fashion show introducing the works of Mr. Christian Lanuzo. And Ms. Gia Capante was the main host of the evening.
Celebrating Phil-Austrian Bilateral Relations from its History to the Social Media
Filipinos have been contributing to Austria's rich and diverse culture traced more than a century already, but the Philippines' consular affairs established its office in 1946. Fortunate to have interviewed Mr. Bolivar Bao, Chargé d'affaires of the Philippine Embassy, he explained, "2021 marks the 75th year of our bilateral relations with Austria but it stretches way beyond 1946. In the 1880s, the country interacted with Austria firstly through our National Hero, Dr. Jose Rizal, who visited his dear friend, Prof. Ferdinand Blumentritt. Our country supports Austria's manpower mainly in the healthcare system."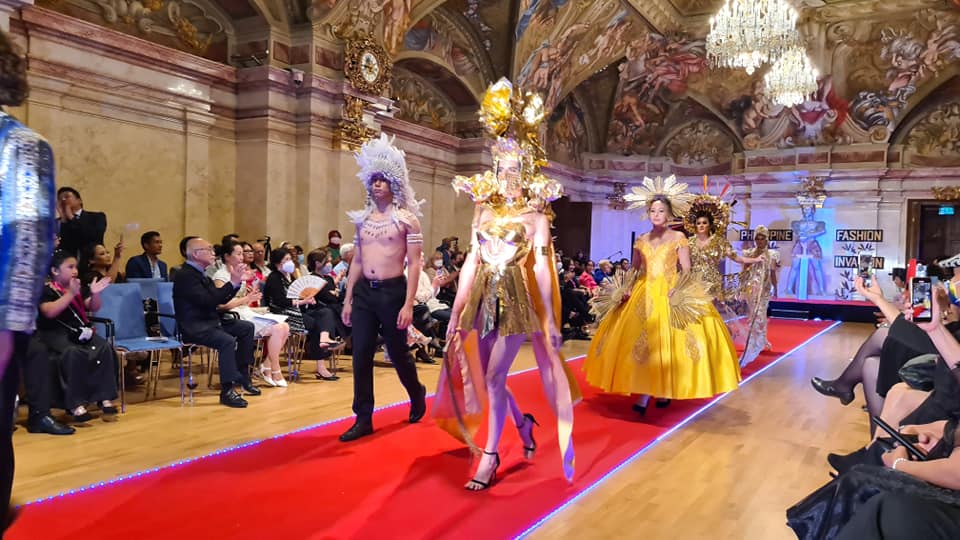 Being true to Filipinos' optimistic spirit, the Embassy still takes several projects despite the limitations of the pandemic. They have been using social media platforms to promote and engage fellow Filipinos in programs like "Did You Know?" which is a series highlighting Filipinos living in Austria and allowing them to showcase their contributions to the community.
"Before this year ends, we will be holding the long-overdue policy consultation between the two governments. We aim to discuss all matters of concerns and interests of both sides hoping to further strengthen Phil.-Austrian relations, bilaterally and within the UN system," Mr. Bao said.
Meanwhile in an interview with the UN Correspondents Association Vienna (UNCAV) secretary-general, Mr. Hermann Kroiher, agrees with Mr. Bao as he expressed, "Filipinos have a good image in Austria, not even a crime involvement to that extent. They have been valuable in our healthcare system." Many Filipinos have settled in Austria and raised families as well.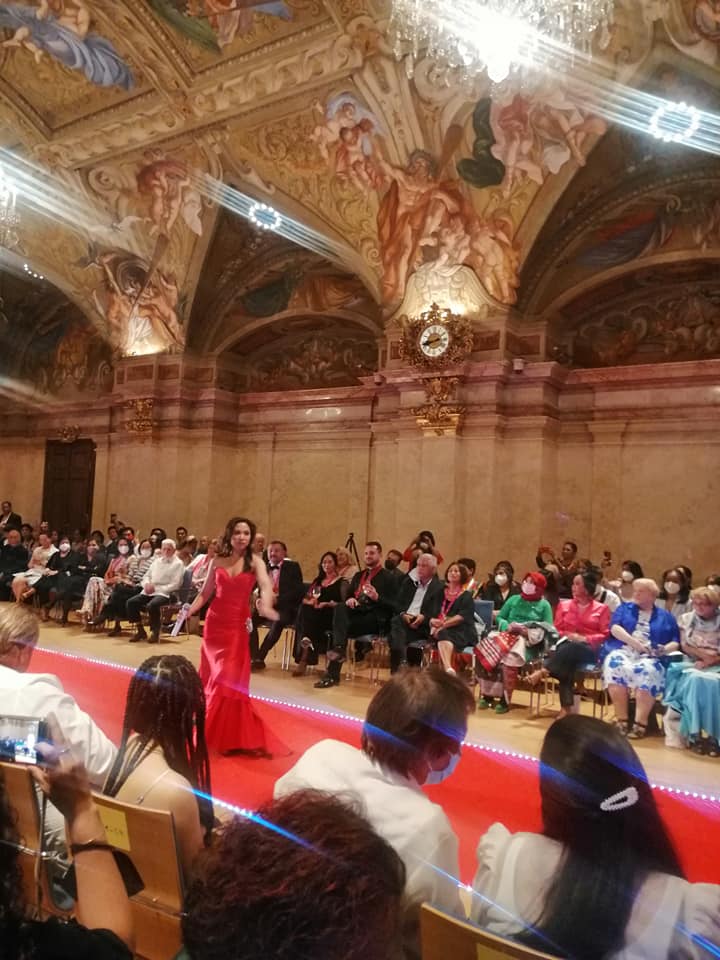 Collaborative efforts and partnerships whether in Business, Education, and Cultural Tourism have transcended and sealed the strong relations of the two nations. "Austria and Philippines have never been enemies. We have a deep understanding and respect for each other. This event is perfect to celebrate the two countries," Mr. Kroiher added.
Honoring Frontliners, more than the Video Tribute and Sash
The event hall went emotional when a video was played presenting the brave Filipino frontliners in these challenging times in Austria. Those present during the segment were requested to take the center stage and a beautiful sash was given by the guest speaker, Dr. Claudia Gschnitzer, to each of them. They had the longest standing ovation of the evening for which they deserve.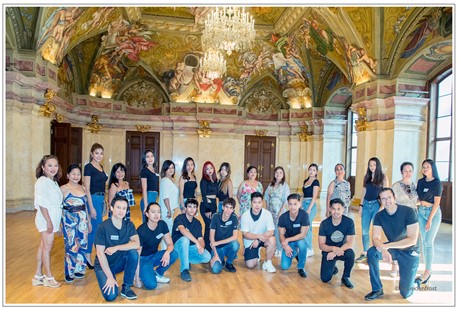 Dr. Gschnitzer is a second-generation doctor and an active advocate of responsible practice in aesthetics and reconstructive surgery. Amused by the significant number of Filipino frontliners in Austria, she stated, "Fighting against this virus wouldn't be possible without the frontliners. And Filipinos, with those smiles on their faces, make the situation less stressful to everybody working in the healthcare facilities."
She cheerfully took photos with all the Filipinos, during and after the event. Dr. Gschnitzer described Filipinos as people who always have a positive disposition in life. She also seemed excited to visit the Philippines after the pandemic.
Certainly, the three prominent guests during the event: Dr. Gschnitzer, Mr. Bao of the Phil. Embassy, and Mr. Kroiher of the UNCAV, could not deny the importance of the Filipino workforce in the healthcare industry, not just in Austria but in other countries as well.
Showcasing Talents and Philippine Fashion with its Intricacies
Performance from various artists kept the hall room more vibrant. Aside from Mr. Vincent Bueno's upbeat songs and groove, a very talented young protégé, Robin Gabriel Roda, played his drums effortlessly. The audience undoubtedly loved every production number as there was non-stop clapping and cheering.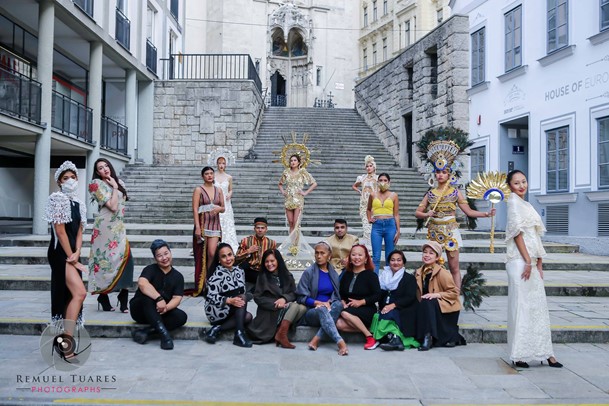 The rising soprano opera singer, Ms. Erin Silangil, surprised everyone as she belted out in her versions of "Mutya ng Pasig" composed by Francisco Buencamino Sr. together with his namesake son and "I Feel Pretty" by Leonard Bernstein. This has always been part of her dream, to perform in front of fellow Filipinos singing Original Pinoy Music (OPM). Having not been raised in a Tagalog-speaking family, she now tries her best to learn the language through songs. "I'm deeply honored to be able to sing a Filipino song. Although I may not be able to entirely understand the lyrics of the song, this event is just a celebration of my roots and I'm proud to be a Filipino," she uttered.
As for one of the most anticipated highlights of each segment, ramp models walked down the runway with their Filipino-inspired clothes designed and created by Mr. Christian Lanuzo, a Milan-based fashion designer making his name across Europe. Catwalk in every segment of the program left the guests in awe. Intricacies of each design were fruits of extensive research and hard labor. The materials were even transported from Mindanao, Philippines to ensure authenticity.
Mr. Lanuzo elatedly expressed, "This is a very big opportunity for me as I want the Europeans to see that we are more than nurses, housekeepers, and such. We can be artists and people who make clothes for them, to be in the realm of the fashion industry." This is his first time to be part of a Filipino-Austrian event after he showcased his creations in Milan Fashion Week.
"For this event, I wanted to go out of the box merging the traditional Filipiniana with the beadworks from the different tribes. This is a movement to let the Philippine fashion be shared with the world from our fabrics to accessories, reflecting our heritage," he further stated in the interview.
Going the Extra Mile as an Organization
Positive feedbacks of the event were evident. The two siblings, Mrs. Marialen Dimalig-Gruenauer and Mr. Arnel Dimailig conveyed their appreciation and gratitude to all the performers and organizers of the event. "They know what the Filipino-Austrian community likes making this event a success without any doubt. This kind of event makes us even closer as a family," Mrs. Gruenauer said. Mr. Dimailig pointed out, "The entire show gave me goosebumps. It was well-organized and had all the right parts in it for the three-in-one celebration. It makes me so proud of being a Filipino."
Mrs. Marizel Rojas, current president of ENFiD-Austria, could not be more pleased to offer this event to her fellow Filipinos in Austria. "This event was not just all mine; it was made possible by an A-Team. I was very fortunate to have a team of like-minded individuals, who are also selfless in their crafts. I hope that my Kababayans enjoyed the event especially amidst this difficult time," she said. During the event, Mrs. Rojas was also given a plaque of recognition from private individuals based in Greece. She has been active in various social organizations both within the local and Filipino communities.
This One Night Only 3-in-1 event was truly remarkable, and we need to hold more events to celebrate our roots and pay it forward. However, this now poses a challenge to the ones next in line. Ms. Sarah Rojas, the current ENFiD-Austria Youth President, said "I feel blessed to be part of the organizing committee, the behind the scenes were way more than I expected but it was all fun. Despite the odds brought by the pandemic, I hope that we, the youth, would be able to continue the footsteps of the organization."
As a newcomer in Vienna, I was impressed on how close the Filipino community here having a welcoming heart. ENFID's event was a success that it should become the first among the many. This was entirely a new experience for me as I haven't attended a 3-in-1 formal event in the Philippines. The incredible performances and Mr. Lanuzo's creations were worth the credit. It also felt so right to have the Filipino-Austrian frontliners honored during the event and see them not in their shrubs but in dashing formal attires with their faces all lit up. This event was one for the books in commemorating our 75th year of Filipino-Austrian relations.
About the Author:
Roman Moreno is an exchange student from the Asian Institute of Management in Makati City, Philippines. He is taking his last term of MBA at the Wirtschaftsuniversität Wien (Vienna University of Economics and Business) as an Erasmus Scholar. He has worked in various multinational banks and private companies in the Philippines, mainly in Sales and Finance. He is also known as a flexible professional always open to challenges and opportunities given to him. He now hopes to gain more knowledge in the fields of International Relations and Human Eccentricity in the modern times. His email addresses are rmoreno@aim.edu and roman.moreno@s.wu.ac.at.
This post has already been read 58 times!