Read Time:
2 Minute, 59 Second
by Sarah Jozelle Magistrado Rojas
Embassy of the Philippines in Austria, Vienna, 27 December 2021
Nine days after taking office as Chargé d' affaires a.i. (CdA)/ Deputy Chief of Mission (DCM) of the Embassy of the Philippines in Austria, Consul General Ivan Frank M. Olea was welcomed by the members of the European Network of Filipino Diaspora Austria (ENFiD-Austria) in an online Christmas Celebration on 27 December 2021 via zoom.
At this virtual event, ENFiD-Austria Chairwoman, Maria Zelda "Marizel" Rojas, delivered a presentation on ENFiD-Austria, describing its raison d'etre, accomplishments in 2021 and the calendar of activities, events and projects in 2022. Notable among this year's achievements was  the virtual Philippine Independence Day Celebration on 12 June 2021, "Wagayway ng Watawat" whereby Filipinos across the globe shared their greetings on Facebook. There were also milestone events commemorating the 75th Anniversary of Philippine-Austrian bilateral relations. The first was  a 3 in 1 event on 11 September 2021 dubbed as the "Philippine Fashion Invasion" which featured the creations of a Filipino Milan based designer, Lionel Christian Lanuzo. This event was also an opportunity to pay tribute to frontliners and raise funds for the street children in the Philippines through Child Hope Philippines. The second event was a Philippine Austrian Festivals Parade on 30 October 2021 featuring 17 groups performing festivals from Luzon, Visayas and Mindanao. Highlights were the "Unity Dance" flashmob in 3 locations and the renowned Austrian Brass Band, Musikverein Leopoldau, playing the Philippine National Anthem for the first time in Austria.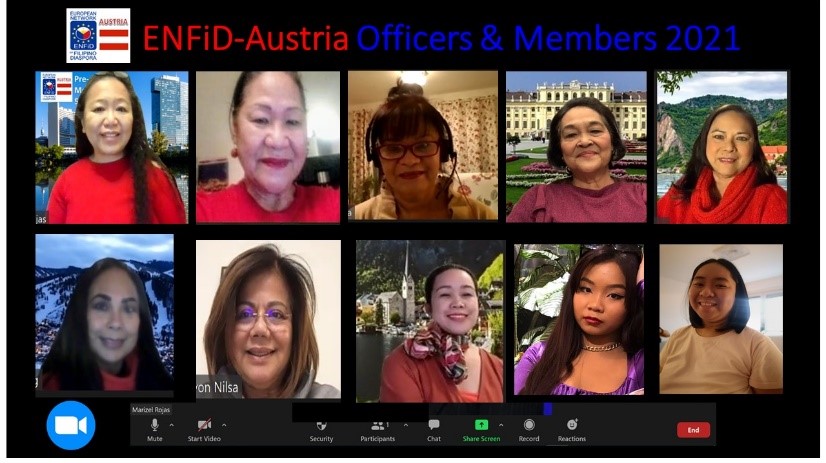 CdA/DCM Olea is a diplomat who started his career in the Foreign Service in Thailand (Bangkok). He was also assigned in Indonesia and subsequently in China (Beijing) for seven years Now, as the Consul General and CdA/DCM in Austria, his first assignment, among others, is to promote Philippine-Austrian bilateral relations. He is counting on the Filipino community (FilCom) support to do this. CdA/DCM Olea is looking forward to further cooperation with the FilCom and to work on multi year projects in enhancing the profile of Filipinos in Austria and to make the Austrians know that we Filipinos are contributing to the development in Austria.
In conclusion, CdA/DCM Olea thanked ENFiD-Austria for its work in promoting Philippine-Austrian bilateral relations, reiterating that "This is your Embassy. We are here to serve our kababayan."
ENFiD-Austria fast-growing Europe-wide cross-sectoral, all-inclusive overseas-Filipino platform in Europe that has genuine developmental ambitions translated into timely and relevant actions for Euro-Filipinos and the Philippines. It was established on 15 October 2017, in Vienna, Austria. Young and small as it is, with 8 adult and 2 youth members, it has organized various activities in line with its 4E Programmes and Advocacies: Education and Learning, Embracing the Environment, Empowering Euro Pinoy Youth, Elevating Arts, Culture and Sports.
W: http://www.enfid-austria.eu
FB: https://www.facebook.com/groups/1763959247220257
M: +43 69914596190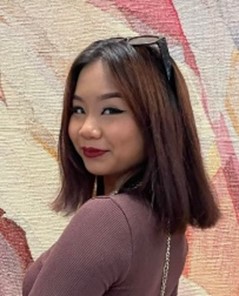 About the Author
Currently taking up Communications and Social Sciences at Mater Salvatoris, Sarah Jozelle Magistrado Rojas is the President of the Young European Network of Filipino Diaspora Austria (YENFiD-Austria). She is the product of a Bicolana-Zamboangeño union, born in Austria, typical Austro Pinay actively involved in the Filipino Community.
She is the Assistant Secretary of Bikol Society Austria (BSA)and a member of Philippine-Austrian Cultural and Educational Society (PACES) and the United Nations Women's Guild (UNWG). Recently, she discovered her interest in prose and passion for poetry.
This post has already been read 42 times!