Read Time:
1 Minute, 52 Second
There's something delightful about Filipino culture. It's a lovely fusion of the Philippine ethnic groups, altogether weaving a rich tapestry of colours, dances, music, and traditions. The celebration of Barrio Fiesta in Austria is an attempt to capture this beautiful fusion's excitement.
Barrio Fiesta is a celebration that continues to be rooted in the traditions of family, community, and Filipino culture. This event is at the heart of the Filipino-Austrian community and infuses a sense of pride among Filipinos and Filipinos.
Barrio Fiesta is a time to celebrate home, family, and community values. It strengthens the love and appreciation of being Filipino. Within Filipinos, an inherent spirit inspires us to appreciate our past, awakens our consciousness of what it means to be Filipino, and encourages us to preserve our history and traditions for future generations. Regardless of age or whether we were born in the Philippines or Austria, we are all Filipinos with the same history. Together we are one community rooted in family and Filipino cultural traditions that speak of the meaning of being Filipino.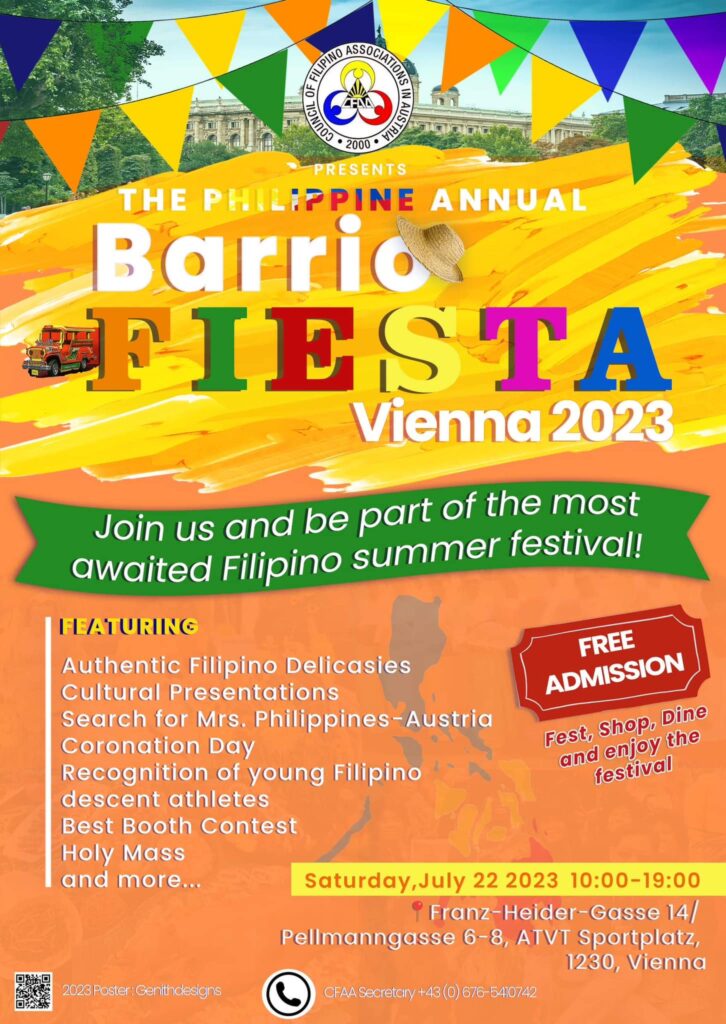 With the innovative minds and dedicated leadership of Filipino leaders in Austria, Barrio Fiesta was introduced here (more than twenty years ago). It was a true gift, and we salute and thank them for creating a community treasure. The Barrio Fiesta has grown by leaps and bounds since its humble beginnings. Yet, it remains true to strengthen the love and appreciation of being Filipino and preserving Filipino history and traditions for future generations. The organizing committee continues to carry out the founders' vision so that the next generation can enjoy it for many years!
Today we celebrate the very best of being Filipino. Community support and the participation of sponsors create the foundation for Barrio Fiesta's success has been built on. Experience the Filipino spirit and enjoy the Barrio Fiesta in Austria!
Everyone is invited to the annual Barrio Fiesta in Vienna this Saturday, 22 July 2023, at the ATC Liesing Sportsplatz (Franz Heidergasse/ Pellmanngasee 2, 1230 Vienna). The event, spearheaded by the Council of Filipino Associations in Austria (CFAA), will feature various cultural performances from the Filipino-Austrian community and allow guests to sample authentic Filipino delicacies from around the archipelago.
Hector Pascua/picture: CFAA