Read Time:
1 Minute, 23 Second
GMUNDEN, STADL PAURA – after a year of taking bureaucratic hurdles, the time has come: All seven candidates received one "Red-White-Red card "as skilled nurses are now allowed to work at the Liebenau in Upper Austria.
After they arrived in Vienna at the beginning of October, representatives of the Austrian Economic Chambers warmly welcomed them as well as the Philippine Embassy, followed by a ceremonial welcome from the staff of Gmunden and Stadl-Paura. Qualified and professionally experienced "We are very pleased to be the first employer accredited in the Philippines to hire foreign professionals through the Red-White-Red Card," said Doris Kollar-Plasser, regional manager of the Liebenau Österreich.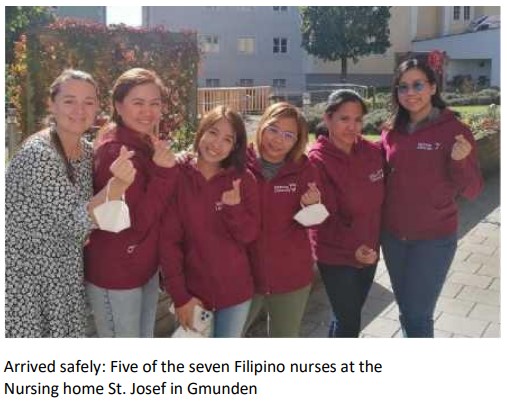 "All seven candidates meet the criteria above the minimum score: They are qualified and professionally experienced in nursing care and have a good knowledge of the German language. "The new colleagues will be working at the Nursing home St. Josef in Gmunden [Haus St. Josef in Gmunden] and at the Social Center of the Cloister Nazareth in Stadl Paura [Sozialzentrum Kloster Nazareth in Stadl-Paura] starting mid-October.
First, they are given a festive welcome at the Nursing home St. Josef. They have time to move into their apartments in Gmunden and Stadl-Paura, which the Liebenau Österreich organizes. Exemplary international cooperation "In exemplary international cooperation with the representatives of the Philippine Embassy, in particular the personal commitment of Ms. Corina Bunag, Labor Attaché of POLO Milan, we succeeded in starting an ethical recruitment process," Doris Kollar-Plasser is pleased to say.
Other cooperation partners were the Austrian Economic Chambers and the C&C Human resource development GmbH.
Author: Elke Benicke/pictures: Liebenau Stiftung