Read Time:
2 Minute, 24 Second
December 5, 2022 – Vienna, Austria – The new officers of the Council of Filipino Associations in Austria, or CFAA, were formally inducted into office. Consul General Ivan Frank Olea of the Philippine Embassy in Vienna administered the oath to the officers of the CFAA led by its incoming President, Mr. Reynante Arreza of the Philippine Association of Medical Technologists (PAMET).
The outgoing president, Elmer Blanco, encouraged the new officers to continue the work that the past officers had begun.
"Let me extend my heartfelt gratitude to everyone for the trust, love, and patience for the last past years of my administration. I hope you will continue to persevere and dedicate your time, talents, and resources to benefit our community," Blanco said.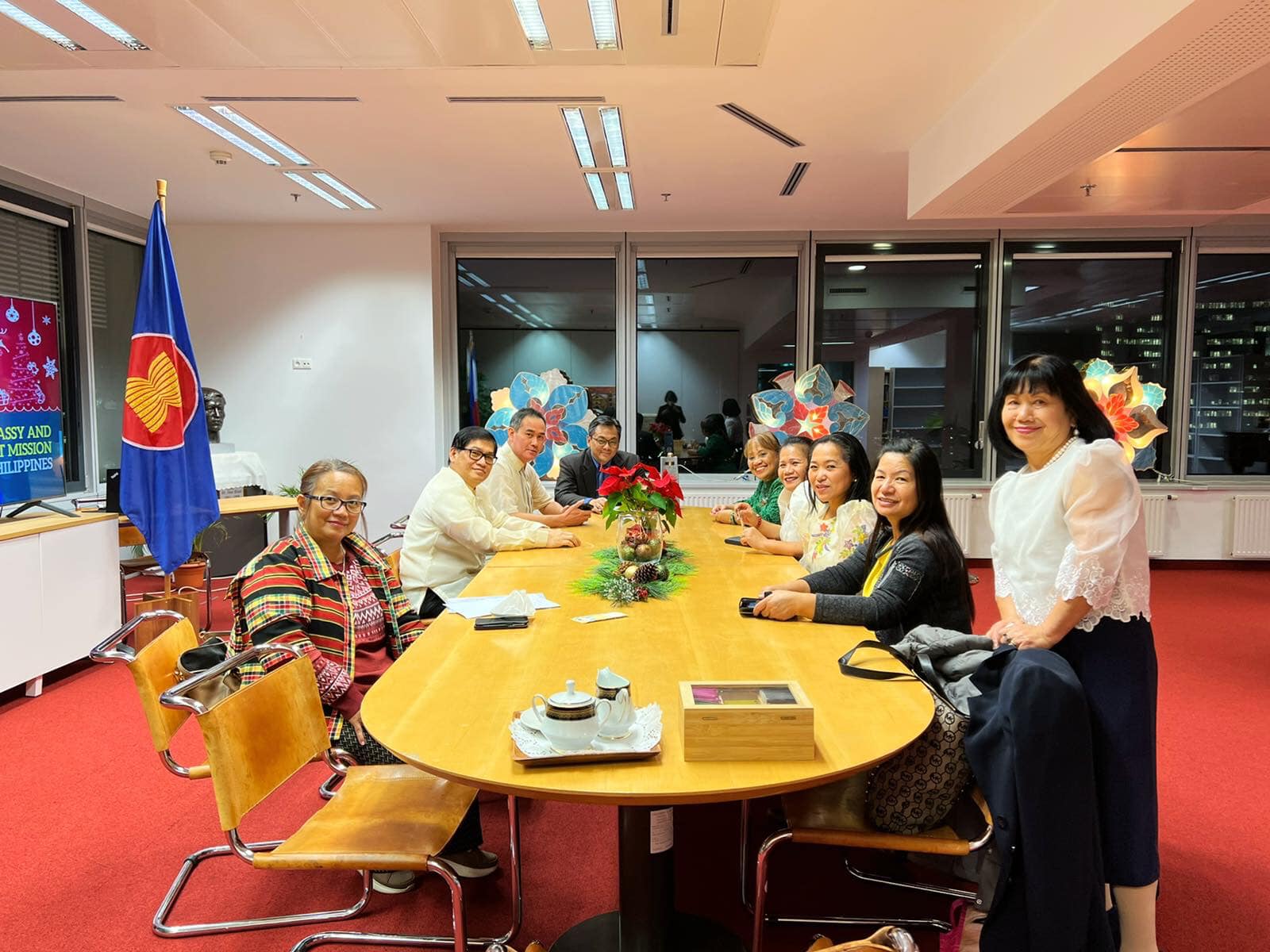 CFAA President Reynante Arreza expressed his gratitude to the Philippine Embassy for supporting the Council's activities and administering the induction ceremonies. Arreza expressed the commitment of his officers to do their best to achieve the goals of the CFAA and implement the projects and activities that would further enhance the unity of the Filipinos in Austria.
ConGen Ivan Frank Olea congratulated and commended the outgoing officers for their efforts in making the CFAA a unifying force within the Filipino community in Austria.
Olea lauded the hard work and dedication of the leaders and members of the CFAA aimed at promoting and serving the interests of Filipinos in Austria. He urged them to work relentlessly to strengthen further and expand the Association and to continue their cooperation and collaboration with the Embassy.
The induction ceremony was held at the Philippine Embassy in Vienna.
Beginnings
The CFAA was formed in 2000 as the Council of organizations in the Filipino community. Its fundamental objective is to unify the different Filipino organizations here in Austria. Since its birth, the CFAA, in cooperation with the Philippine Embassy, has taken charge of significant and considerable activities of the Filipino community, such as the yearly Philippine Independence Day Celebration and other activities, like the traditional Barrio Fiesta, the Paskong Pinoy or " Filipino Christmas." Other activities, like Philippine cultural shows and painting exhibits, have been organized and supported by the CFAA. It has also conducted several symposia, providing information on retiring here or in the Philippines, health insurance, acquiring properties in the Philippines, on inheritance and taxes, to name a few. Financial support has been endowed to various projects in the Philippines through its member organizations. It also actively participates in the activities of other organizations in other parts of Austria.
The Philippine community has always been considered one of the most integrated communities in the mainstream of Austrian society. The CFAA aims to continue its active participation in promoting the objectives of the integration office of the Republic of Austria. The vision of the CFAA is a unified, progressive, and peaceful Filipino community in Austria.
Hector Pascua/pictures: Marjorie Guidangen-Akistoy
This post has already been read 2110 times!