Read Time:
1 Minute, 21 Second
For the richest person in the world, it is clear: the end of the world will come. And Elon Musk even wants to know how – the answer, he says, lies with the meteorites coming ever closer to Earth.
According to NASA, the U.S. federal space and flight science agency, there are over 1.1 million asteroids in our solar system. Scientists pay particular attention to asteroids that come close to Earth's orbit.
The danger of a collision of the Earth with an asteroid
Because these near-earth asteroids could collide with our planet and cause large damage or, in the worst case, even our end of the world.
Only at the beginning of the year is the danger of the asteroid "Bennu" reported, where the probability of a collision with the Earth increases.
A collision of an asteroid with Earth is feared even by the richest man in the world. Elon Musk, who is very familiar with space through his space company SpaceX and even sends space tourists into space, assumes that a meteorite or even a larger asteroid will hit the Earth, only when is still the question.
Elon Musk is sure that the collision will happen.
So he recently made a less reassuring statement on his Twitter account, reminiscent of a disaster warning to the point of announcing the end of the world: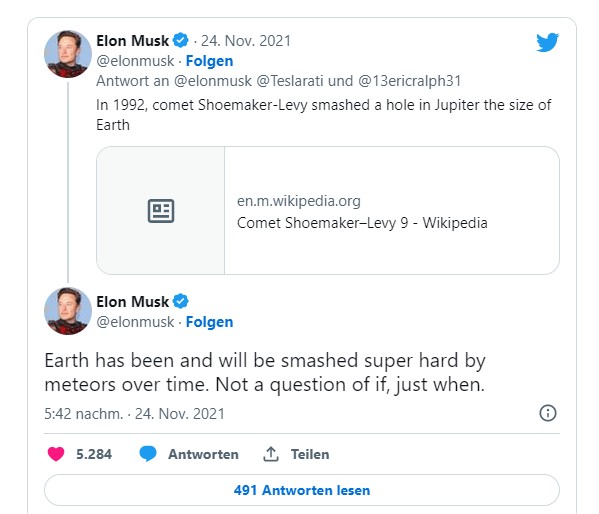 As recently as March of this year, it became known that, according to NASA scientists, an asteroid could pass so close to Earth in 2029 that it would destroy all of our satellites.
This post has already been read 1658 times!