Read Time:
2 Minute, 18 Second
The Vienna International Center-Club Filipino in Vienna hosted the Flag Raising Ceremony and breakfast on the 125th Philippine Independence Day.
It was a memorable event for the group since the primary guest of the celebration was the former President of the Philippines, Mrs. Gloria Macapagal Arroyo.
Filipino workers in the United Nations and some Filipino Community leaders were present during the event.
The former President and her daughter and new Ambassador to Vienna, Evangelina Lourdes Arroyo-Bernas, took time to have pictures with her "kababayans at the International Flag Corner in the United Nations building.
During the short program, Marizel Roxas, President of the VIC Club, presented the club's projects through the years.
Former President Gloria Macapagal Arroyo hailed the Filipinos' accomplishments at the United Nations. She specially mentioned the director of the International Atomic Energy Administration, the former ambassador to Austria, Maria Cleofe Natividad.
"You are the ones who give inspiration to me, you, the Filipinos here in the UN Vienna. Congratulations to all of you," the former President said.
Arroyo commended the Filipino employees and workers at the United Nations for their professionalism.
"You are from top to bottom of the UNO personnel. The UNO loves you so much. The UNO wants to have you all the time working here because you are very talented, have excellent work ethic and have a positive outlook in life," Arroyo added.
Arroyo was accompanied by two lady congresswomen attending the  Brussels convention of the international lady parliamentarians.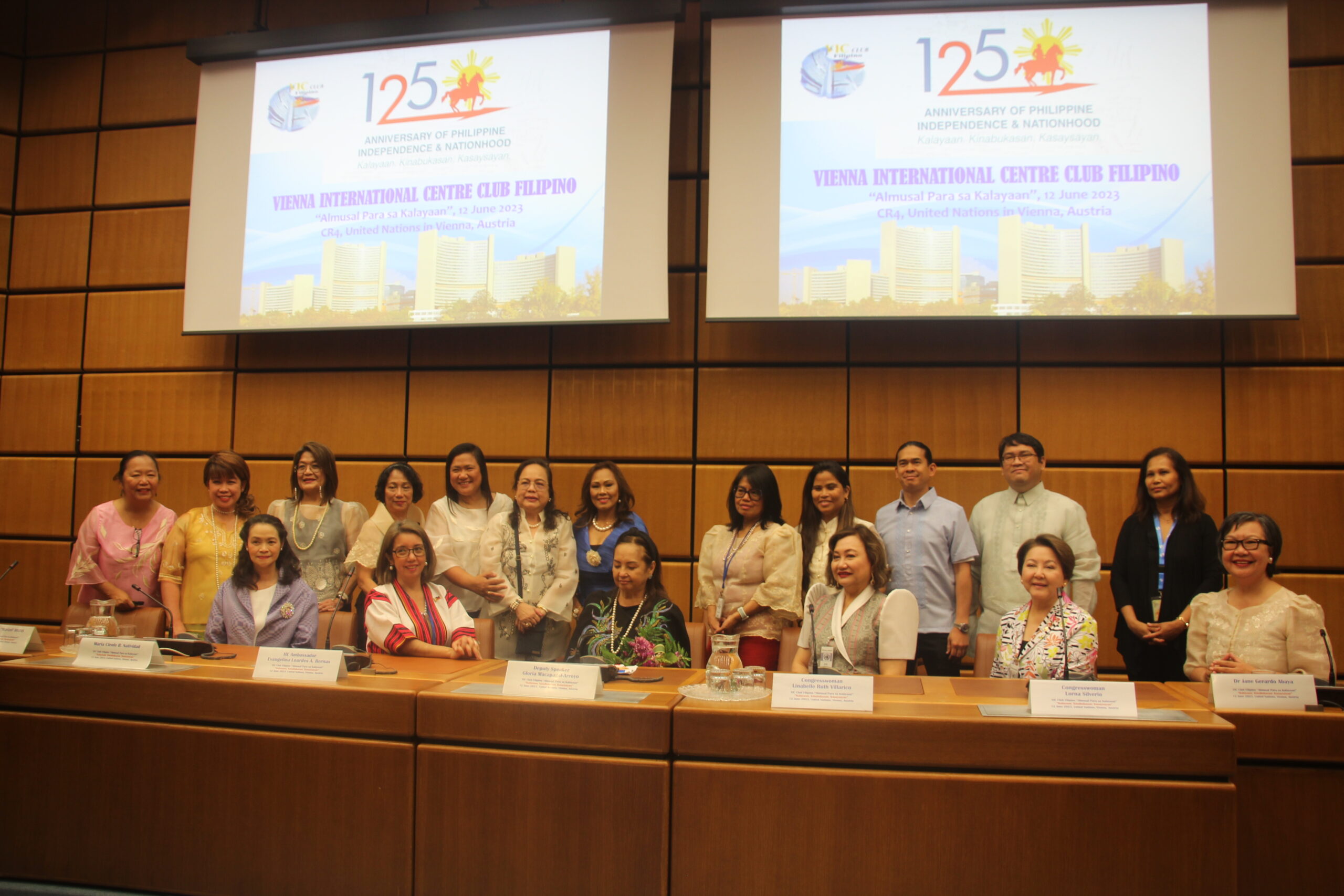 A Brief History of the Philippines Independence Day
On June 12, 1898, General Emilio Aguinaldo raised the Philippines flag for the first time and declared this date as Philippines Independence Day. Marcela Agoncillo, Lorenza Agoncillo, and Delfina Herbosa designed the flag of the Philippines, which is famous for its golden sun with eight rays. The rays symbolize the first eight Philippine provinces that fought against Spanish colonial rule.
After General Aguinaldo raised the flag, the San Francisco de Malabon marching band played the Philippine national anthem, "Lupang Hinirang," for the first time.
Spain, which had ruled the Philippines since 1565, didn't recognize General Aguinaldo's declaration of independence. But at the end of the Spanish-American War in May 1898, Spain surrendered and gave the U.S. control of the Philippines.
In 1946, the American government wanted the Philippines to become a U.S. state like Hawaii, but the Philippines became an independent country. The U.S. granted sovereignty to the Philippines on July 4, 1968, through the Treaty of Manila.
Filipinos initially celebrated Independence Day on July 4, the same date as Independence Day in the U.S. In 1962, President Diosdado Macapagal changed the date to June 12 to commemorate the end of Spanish rule in the country.
This post has already been read 1707 times!