Read Time:
1 Minute, 10 Second
The Filipino Visual Artists in Austria staged their first-ever group Painting Exhibit in Vienna on June 6 to 10, 2023. The event was held in the halls of Wasserturm Wienerberg, Windternstrasse 3, 1100 Vienna. Many art enthusiasts from the Filipino community and the Austrian audience joined the opening salvo of the painting exhibit. All were amazed by the wonderful Filipino Talented Artists who showcased Filipino artworks and rich culture.
The theme of the painting exhibit was: "Water – Tubig-Wasser." Consul General of the Philippine Embassy in Vienna, Hon. Frank Olea, also joined the event.
Consul General Frank Olea said that the art show celebrates the talent and creativity of Filipino artists in Austria.  He encouraged them to continue propagating their art.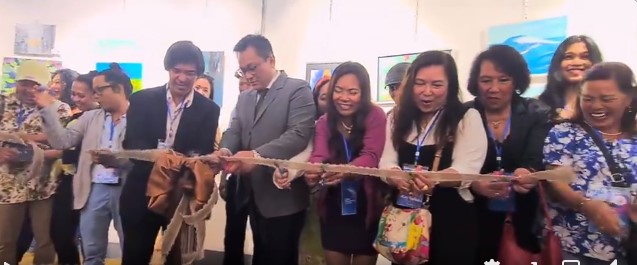 Exhibiting Artists:
FILIPINO VISUAL ARTISTS IN AUSTRIA: Gerry De Guzman, Imelda Perez Papai, Lisa Ante, Marvin Balcos, Isagani Banacia, Cleofe Cotamora, Generoso Cotamora, Sheila Feleciano, Jam Fernandez, Randy Ilagan, Harold Khan, Mamerto Luya, Rose Neuman, Sabine Perucho, Cecilia Prinz, Jem Velasco, Anna Yacat.
The main objective of the Painting Exhibition is to engage and help educate the Filipino community and supporters, whether they are Filipinos or not, on their Filipino heritage and culture through their art. 
The Vernissage showcased exceptional artworks from talented Filipino Artists in Austria. The Vernissage aims to promote young and emerging Filipino artists and empower them through participation in such events.
This post has already been read 1089 times!