Read Time:
2 Minute, 28 Second
The "1st Vienna ArtPark," a colourful cultural festival – an open-air platform and cultural hotspot in Hermann-Gmeiner Park in Vienna's First District, opposite the Stock Exchange, was held on September 9, 2023. For one day, from 12 to 18 o'clock, artworks by artists were presented in public space under the open sky, if necessary, with the help of fences. The park thus becomes a low-threshold and inclusive meeting zone for art enthusiasts and creators alike, an art marketplace, and a networking platform.
A rich international culinary offering, a children's programme, and dance and music performances round out the diverse cultural offerings, emphasizing interculturality. The playground in the park is usually busy during the cultural festival. Nearby associations, stores, companies, and organisations were invited to present their projects. This results in numerous opportunities for cooperation and networking, during which, in addition to friendships, new initiatives can be created, artists can be brought together with collectors, and associations and organisations can gain a new clientele. Musicians, street artists, cabaret artists, and performance artists were well represented.
Support for artists
In the art world, many artists find it difficult to show or sell their works in galleries because they lack the necessary experience and contacts. This is where the "1st Vienna ArtPark" comes in, offering a unique opportunity to help these artists present their works to a broader public and thus also to improve their income without the organising association receiving a commission.
Anna Yacat-Bader, a Pinay contemporary Artist from Vienna, was invited to display her artworks here. Anna expressed her gratitude to the organizers for the opportunity to show her artwork during the one-day event. Filipinos and art lovers from Austria admired her contemporary paintings.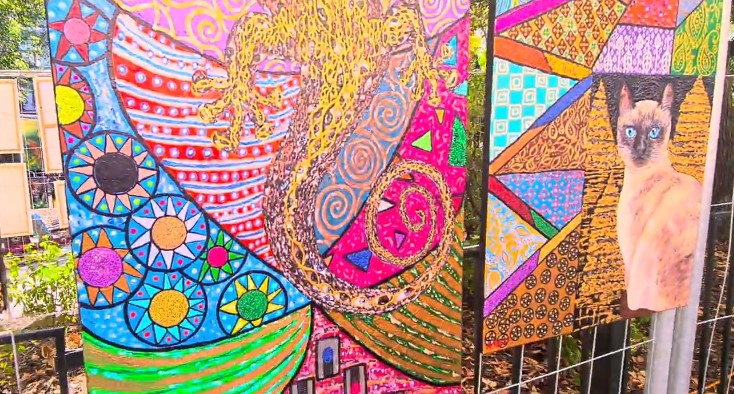 Anna Yacat
Anna Yacat, born October 29, 1986, in Manila, Philippines, and based in Vienna since 2015, is a modest yet extraordinarily talented artist. Her colourful acrylic and mixed media artworks intriguingly fuse floral motifs, ornate ornaments, and mesmerizing spiral geometries. Her work reflects a deep appreciation for the harmonious marriage of nature and design.
However, Anna's artwork is not only the result of her creativity but also pays homage to famous Austrian artists such as Klimt, Hundertwasser, and Egon Schiele. Her inspiration from these creative masters can be felt in every brush stroke as she develops her unique style. Anna Yacat's works are an artistic bridge between cultures and styles, taking viewers through colours, shapes, and emotions.
A sense of belonging in the district
Through the "1st Vienna ArtPark" the artists, musicians, performers, and all participating associations from the region, the catering businesses, and possible sponsors had the opportunity to network within the framework of and present their projects/work to the general public. Many friendships and project collaborations have already been established with the help of this platform. Artists have been brought together with collectors, associations with new members, and companies and organisations with new clientele in a relaxed atmosphere.
hector pascua, Pictures: Zandrine Kocjan
This post has already been read 557 times!