Read Time:
1 Minute, 10 Second
The measures announced on Friday by the head of the government to combat the further spread of the coronavirus left the population in any case partly helpless. The fact is that tomorrow, Monday, stricter regulations will come into force nationwide which should be considered completely independent of the color scale of the traffic lights.
The whole country is wearing a mask again
An example: Yellow would allow indoor events with up to 100 guests, the new measures set the upper limit at 50. For large events (with an appropriate security concept) the maximum number of visitors was reduced from 2500 to 1500.
As already reported, the obligation to wear masks was also extended: This applies, for example, in all stores and in schools outside the classrooms. And also in regions that are green according to the traffic lights.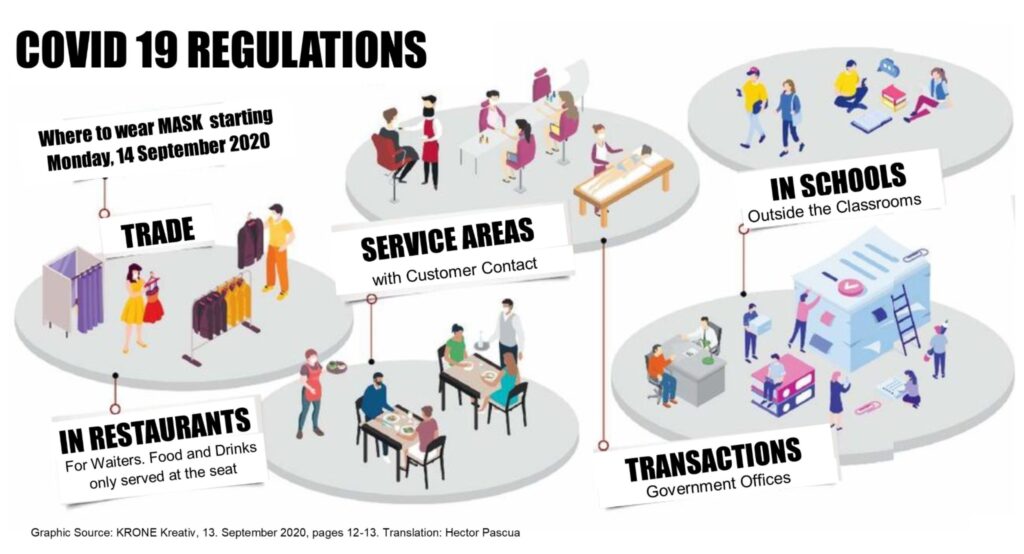 More regions are switched to yellow
The Corona Commission will meet again tomorrow instead of Thursday as planned. It can be assumed that many more regions will be switched to yellow. Above all, districts around conurbations, such as the greater Vienna area – keyword: commuters.
Back to the tightened measures and the question of what they will achieve: "We will see the positive effects – as the experience of spring shows us – in the statistics after ten to 14 days," Health Minister Rudolf Anschober is convinced.
Hector Pascua with reports from Kronen Zeitung Picture: Krone Graphik, stockilyapp.com
This post has already been read 100 times!