by Hector Pascua Pictures: Mandy Salonga
VIENNA, AUSTRIA – Bicolanos and devotees in Austria commemorated on September 19, 2020 the annual celebration of their regional Patroness, Our Lady of Penafrancia.
Leading the celebration are the Bikol Society in Austria and the Filipino Catholic Chaplaincy in Vienna.
Nevertheless, the grand celebration of the almost two decade devotion to the Our Lady of Peñafrancia in Austria had been canceled to prevent a possible surge of coronavirus disease (COVID-19) cases.
It has been already a tradition among the Bikolanos here to commence the celebration ofthe Feast of Ina with a fluvial procession on the Danube River.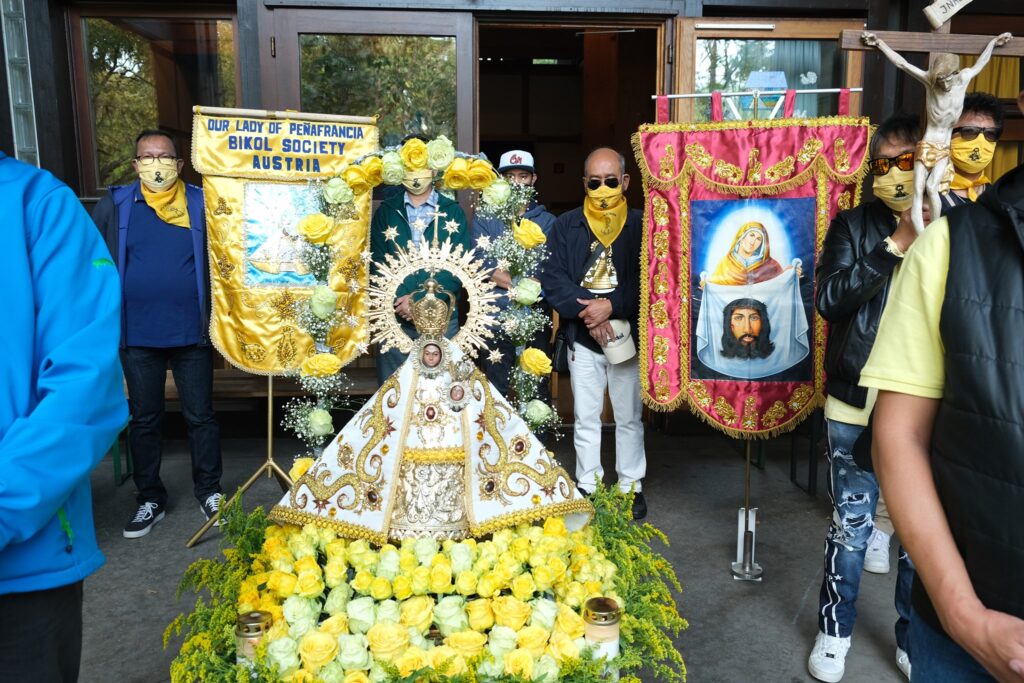 "Mindful of the present state of national public health emergency, we decided to cancel this year's fluvial procession," Marizel Rojas, President of Bikol Society in Austria said.
Rojas invited the faithful instead to reflect on the theme "Fostering Dialogue and Harmony in the Spirit of Mary's Gentleness and Humility" during observance of the feast.
"The changes in our celebration should inspire us to discover how our faith can lead us to be gentle and humble in receiving the grace of God in the face of this pandemic," Rojas added.
On September 19, 2020, the Feast of Day of our lady of Penafrancia, devotees (with masks) joined the procession that took place around the church of the Filipino Catholic community in Vienna's 10th district.
The celebration of the Holy Eucharist followed after the procession. Fr. Ely Dalanon, Chaplain of the Filipino Catholic Community was the main celebrant.
"Siguro ang iba ay natatanong kung bakit itinuloy pa ang fiesta sa araw na ito. Nandito tayo para magbigay parangal at pasalamat sa Mahal na Ina ng Penafrancia dahil patuloy ang panalangin niya para sa ating lahat. At never nating naramdaman na binigo niya tayo. Kaya meron tayong rason para magdiwang dahil ang ating ina ay palaging kasama natin," Fr. Ely Dalanon said in his homily.
Devotees of Ina, who could not join the community because oft he present pandemic shared their messages via Video calls.
Message of Ambassador Sulpicio Confiado and wife, Priscilla Confiado (Excerpts)
"We take this occasion to convey our congratulations and best wishes to the Filipino Catholic Chaplaincy in Austria and the Bikol Society in Austria as you celebrate with the whole Filipino Community the Feast day of our Ina, Our Lady of Penafrancia," Ambassador Sulpicio Confiado said.
"Our stay in Austria will never be complete without memories of our sojourn with Ina. Four years in a row we participated in the festivities and the fluvial procession of Viva la Virgen. Truly it was a kind of joy and hope and peace. The message of our Lady of Penafrncia is also a message of hope for all of us who journey with our Lord and our God," Mrs. Priscilla Confiado added.
Ambassador Sulpicio Condiado and wife, Mrs. Priscilla Confiado were Hermano and Hermayo Mayor during the Penafrancia Feast 2018.
Message of Archbishop Rolando Tria Tirona of Caceres (Excerpts)
"I warnly greet you devotees of Penafrancia in Vienna, Austria. Our hearts are full of joy as together we express our homage of joy and devotion to our Blessed Mother, our dear Ina. Indeed our Lady of Penafrancia, our Ina is God's gift to us reminding us at the same time to live our lives always in intimacy with God, obedience to his will and above all, a heart that serves the chruch especially the poor. I bless all your families, all your undertakings, I bless your community, may all you prosper in devotion, may you always live in charity, bonding with each other inspired by the Blessed Mother. Happy Fiesta. Dios Mabalos!"
Archbishop Rolando Tria Tirona of Caceres
Message of Ambassador Maria Cleofe Natividad (Excerpts)
It is a honor to join you in celebrating the most Blessed Feast Day of our Lady of Penafrancia for the second time in my service as your ambassador. Although our community cannot join together in the same way I so enjoyed in 2018, I urge you not to become dishurting. Our mahal na Ina has always sheltered her devotess though times of uncertainties. As Bikolanos know very well the tradition of worshipping our Our Lady of Penafrancia is one that has always been anchored in miracles. With this conviction we can carry on faithfully knowing that Ina will be our beacon even amid a health world crisis. Indeed feeling rooted in the love of a mother maybe one of the greatest sources of strength we can draw from in this time of uncertainty."
"We love our Mahal na Ina. We are a country that loves our Ina. Despite the covid pandemic we will not be defeated. We will prevail and we have prevailed with our festivities here in Austria. So para sa inyong lahat all over the world, Filipino devotees and everyone in love with our Ina Happy Fiesta!" Marizel Rojas said.
The devotion to Our Lady of Peñafrancia remains strong among Bicolano communities in various parts of the country and abroad.
There are civic and religious organizations in the United States and Europe that continue to practice and promote devotion to the region's patroness.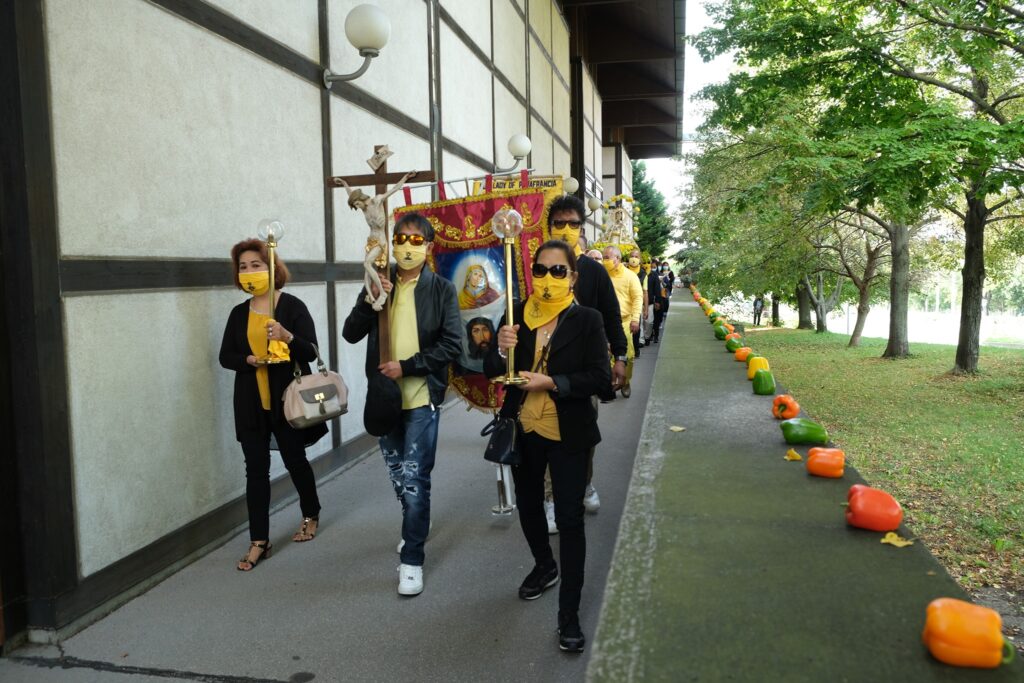 The first fluvial procession in Vienna happened in 2003. Since then, the Penafrancia fluvial parade has become a tradition among the Bikolanos and Marian devotees in Austria.
Before the fluvial procession, a 9-day novena was conducted at the Filipino Catholic Church in Vienna's 10th District, where devotees gather for the nightly prayers and take away foods sponsored by independent Bicol support organizations. The Novena masses were likewise broadcasted live via Facebook.
The Penafrancia Committee of the Bicol Society in Austria, under the leadership of Marizel Rojas, has been working with the Filipino Catholic community for a successful and meaningful Peñafrancia feast.
The Peñafrancia Festival, the biggest religious event in the Bicol region, has drawn millions of tourists, pilgrims and devotees to its different festivities, such as the traslacion and fluvial procession, which involves the transfer of the image of the Bicol patroness, referred to as "Ina" (mother) by devotees, from its official home at the Peñafrancia Basilica Minore to the Naga Metropolitan Cathedral and vice versa.
This post has already been read 157 times!