For Austrians, roughly four categories apply when entering other countries. For Viennese there are exceptions in many places. But there are also differences on the return journey.
The spectrum ranges from free entry to entry only in exceptional cases. Only for Viennese there are extra requirements, because the federal capital was classified as a risk area by some countries like Germany, Belgium and Switzerland. But vice versa as well. If Austrians may enter for example in Sweden, Croatia or Romania, a Corona test is required upon return.
Entering Hungary, Finland and Denmark is possible only in exceptional cases, thus no tourism journeys. In Finland still another 14-days quarantine is added with an entry of each kind. This also applies to Great Britain, Ireland, Iceland, the Baltic States or Norway.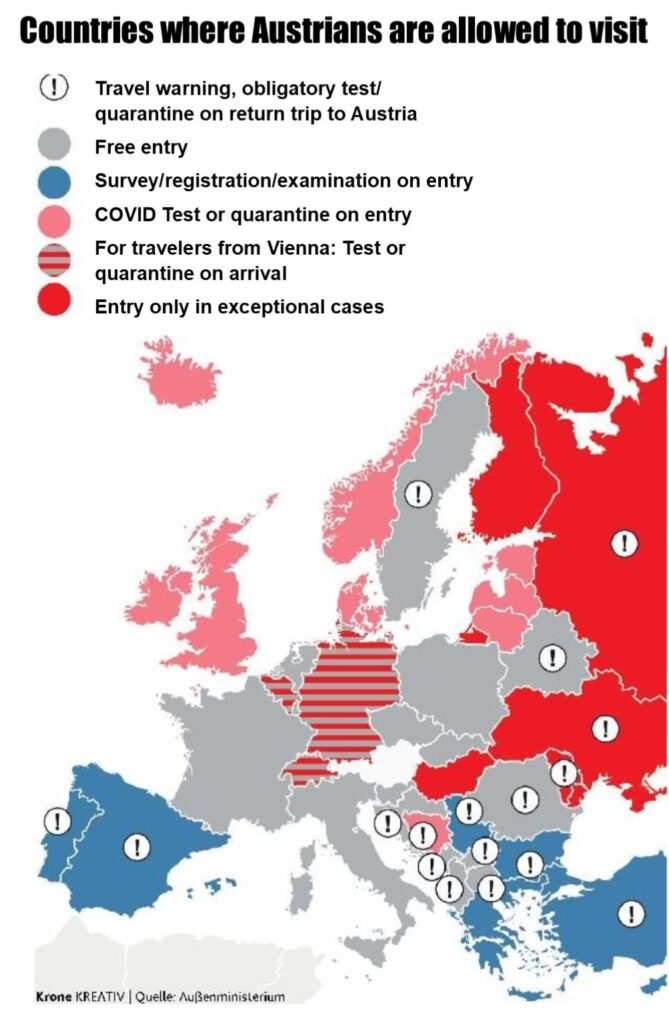 But where else are we allowed to go?
The Netherlands, Poland, Italy, Belarus and the Czech Republic welcome us without any problem. There only the political situation makes it difficult to enter In Belarus. With the Portuguese mainland there are no problems. However, if you want to go to the islands of Madeira or the Azores, you have to register. The same applies to Spain (unless you enter by land) or Greece. If you want to go to Turkey, you will have to undergo a health examination. In principle, however, the Foreign Ministry advises against all non-urgent trips abroad.
— Hector Pascua, Source: Foreign Ministry, Austria. Picture: krone.at
This post has already been read 57 times!