The hot season should be enjoyed! However, it can't hurt the line to replace one or two calorie traps with something else tasty in between.
Some things are preferred to eat and drink during the hot months. Unfortunately, they come with some unexpected calories.
Whether in summer, fall or winter – if you're healthy and happy with your body, you're naturally allowed to indulge yourself. But especially nowadays, when we actually want to show our crispy side in skimpy clothes, there are bigger and smaller calorie traps lurking around every corner. And if you soon feel uncomfortable in a bikini or swimsuit, it's hard to enjoy the hot months.
Soft drinks and fruit spritzers
Hardly anyone will deny that an ice-cold soda is refreshing – but neither will anyone deny that it contains plenty of sugar. One glass (200 milliliters) contains 90 calories and around ten grams of carbohydrates. The same amount of water would have contained ZERO calories – and would be, as the Munich graduate ecotrophologist Professor Nicolai Worm explains, the better choice anyway. "In the summer heat, the body loses water. So when thirst comes, you just have to replace the water and not sugar." The nutritionist also does not see fruit juices as an alternative, even juice spritzers are "not recommended when drinking a lot."
Who misses something with taste, Wiebke Franz of the consumer center Hessen also recommends water. However, this could be made a little more interesting in terms of taste. "With orange and lemon slices, a few pieces of fruit and herbs such as mint, basil or rosemary, water tastes like more," assures the nutrition expert . So-called Infused Water gives it also as finished product to buy. These could have been manufactured under circumstances with sugar, above all however it suspects in it aroma and sweeteners. Both are low in calories, she says, but bring with them another problem: an intense sweet taste. "It would be better if consumers re-learned to taste strawberries, for example, as sweet." In the long run, that could help people avoid too much sugar in their diets, he said.
Grill food
Summertime is grilling time. Unfortunately, the classic on the grill, the bratwurst, consists of about 30 percent fat and is therefore one of the classic calorie traps. And since an average portion weighs between 100 and about 150 grams, it adds up to 380 calories to the plate (even without side dishes!). Even if it is not made from pork, poultry sausage, for example, consists of around 20 percent fat. If you want to eat your fill in a healthier – and no less delicious – way, we recommend rump steak (about seven percent fat) or marinated poultry. This provides valuable protein and only a fraction of the calories.
Alcohol
It should come as no surprise to anyone that alcoholic beverages are high in calories. Beer in particular has a semi-good reputation for giving you the infamous beer belly. At the same time, it does have some positive properties: The isotonic barley juice provides various B vitamins, nutrients and trace elements – and also only around 37 calories per 100 milliliters. In contrast, the same amount of Apérol Spritz already contains 140 calories. Especially if it's not just a drink, we recommend a sparkling white wine spritzer, i.e. a dry white wine with cold sparkling water. This will give you just as much cool to drink, but only half the calories, and do something for your fluid balance.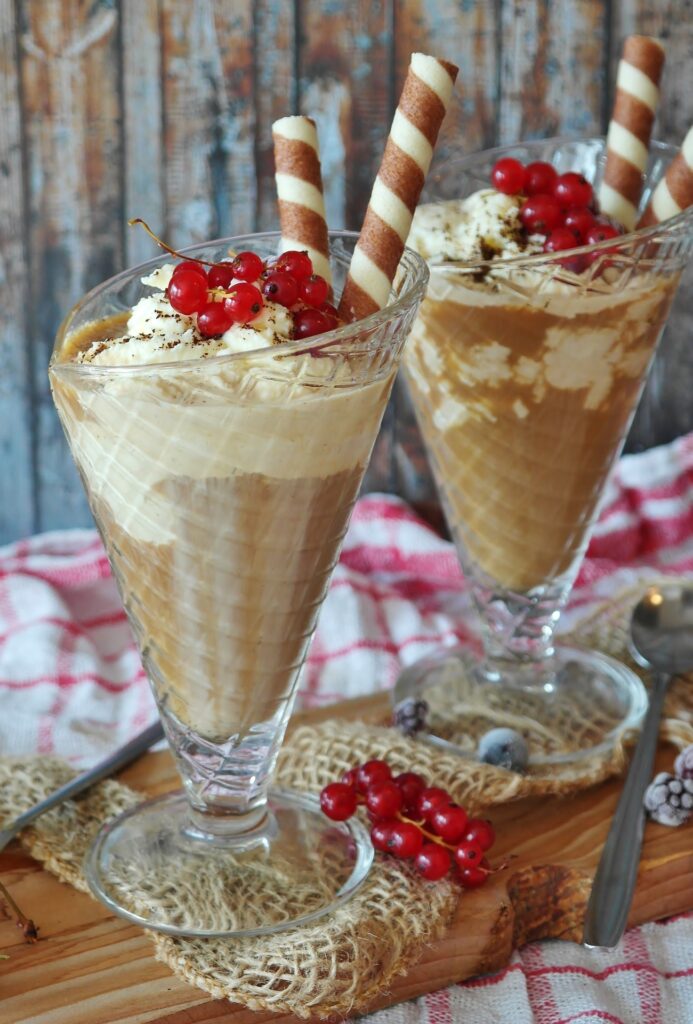 Iced coffee
"Iced coffee is the ultimate calorie sin of the summer," says nutritionist Sven-David Müller. This consists – beyond the eponymous stimulant – of ice cream, chocolate sauce or syrup, and is also often topped with whipped cream. Müller estimates that an iced coffee cup in a café contains up to 650 calories, which is equivalent to the nutritional value of a sumptuous meal. Who nevertheless the sense after cold coffee stands, does not need to fear around its line. As the Diät expert and author ("We eat us slim", publishing house Mainz) explains, pure coffee belongs to the energy-poorest food at all. So it's best to prepare your own iced coffee: with cold milk, ice cubes and a touch of vanilla sugar.
Frozen yogurt
For some seasons now, figure-conscious people have been giving normal ice cream a wide berth and lapping up "frozen yogurt". This is usually lower in fat than the classic cold dessert and often natural, which is why it is consumed in larger quantities without a guilty conscience and enhanced with fresh fruit, various sauces, nuts, brittle and/or chocolate lentils. These "toppings" enhance it in some circumstances, and not just in terms of taste. "With cream or chocolate sprinkles, frozen yogurt tastes delicious, but also becomes very energy-rich," Dr. Birgit Brendel from the consumer advice center in Sachsen, Germany points out.
And even without toppings, frozen yogurt is not as light as assumed. Its sugar content is often the same as that of ice cream, explains Dr. Brendel, and in terms of fat content, the values vary from product to product. With frozen yogurts from the grocery store, it is therefore important to compare the nutritional information on the packaging. "If you're very concerned about your figure, it's best to opt directly for water ice or fruit sorbets. These usually contain no or at most very little fat." Depending on the flavor, the sugar content may be higher. Here, too, it is advisable to look at the nutritional information.
Dressing
When it's hot outside, people are usually less hungry. Salad is very popular with many people. However, the supposed diet food is not always as light and low in calories as assumed. Calorie trap number one: the dressing. 100 grams of creamy French dressing contain around 460 calories; Caesar dressing is still a hefty 330. A lighter alternative would be balsamic dressing, for example, with 64 calories per 100 grams. Care should also be taken with extras. Bacon cubes, croutons, nuts or large amounts of high-fat cheeses, such as feta and mozzarella, make the salad more filling, but at the same time very high in calories. Better: grilled chicken breast, shrimp or cottage cheese (about four percent fat).
Meat and pasta salad
Where it says salad on it, is not automatically salad in it. Meat salad, for example, consists of sausage and mayonnaise, among other things, and comes in the standard recipe to about 300 calories with 30 grams of fat per 100 grams. Likewise, pasta salad is often dressed with mayo or topped with mozzarella balls.
What is only ONE popular component at a picnic or barbecue could already make up a complete meal in terms of nutritional value. A lighter side dish would be grilled vegetables or cucumber salad (preferably in a light yogurt dressing, alternatively vinegar and oil).
source – fitbook.com, by Laura Pomer/picture: pixabay.com
This post has already been read 41 times!