Read Time:
4 Minute, 9 Second
by Sarah Jozelle Magistrado ROJAS
Vienna, 29 December 2021
Complying with the CoViD-19 protocol for in person gatherings, the Philippine Embassy (PE) in Austria, headed by the recently arrived Consul General Ivan Frank M. Olea, organized the biggest face to face meet up with members of the Filipino community since the pandemic started in March 2020: the Commemoration of the 125th Anniversary of the Martyrdom of Dr Jose Rizal and Christmas Get Together on 29 December 2021 at its premises in Ares Towers, Donau City Straße 11, 1220 Vienna.
The theme of this year's commemoration is "Rizal: Para sa Agham, Katotohanan at Buhay" (Rizal: For Science, Truth and Life) which dovetails neatly with the theme of the commemoration of the 75th year of Philippine Austrian bilateral relations in 2021: "Bound by History; Enriched by Science and Culture".
The programme included the welcome remarks of Chargé d' affaires a.i. (CdA)/ Deputy Chief of Mission (DCM) Ivan Frank M. Olea, and reading of excerpts from Rizal's poem "Mi Ultimo Adios' in Tagalog by Carol Constantino. Another part of the programme was the screening of the film "Tracing Rizal's Steps in Vienna", a documentary produced by the Philippine Embassy in honour of the 160th anniversary Dr. Jose P. Rizal's birth, available on youtube: Tracing Rizal's Steps in Vienna – YouTube. The film screening was followed by a photo opportunity and the typical agape "salo salo" with Filipino dishes.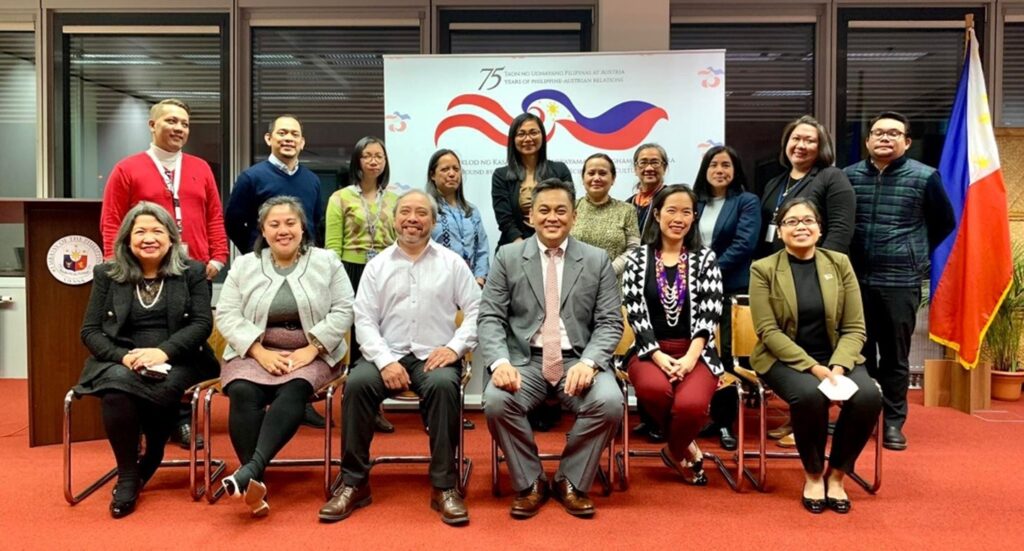 In his welcome remarks, CdA/DCM Olea, introduced himself, mentioning that the longest he has spent in the Foreign Service before coming to Austria was in Beijing, China. He had actively engaged with the Filcom in all his postings and intends to continue this, too, in Austria.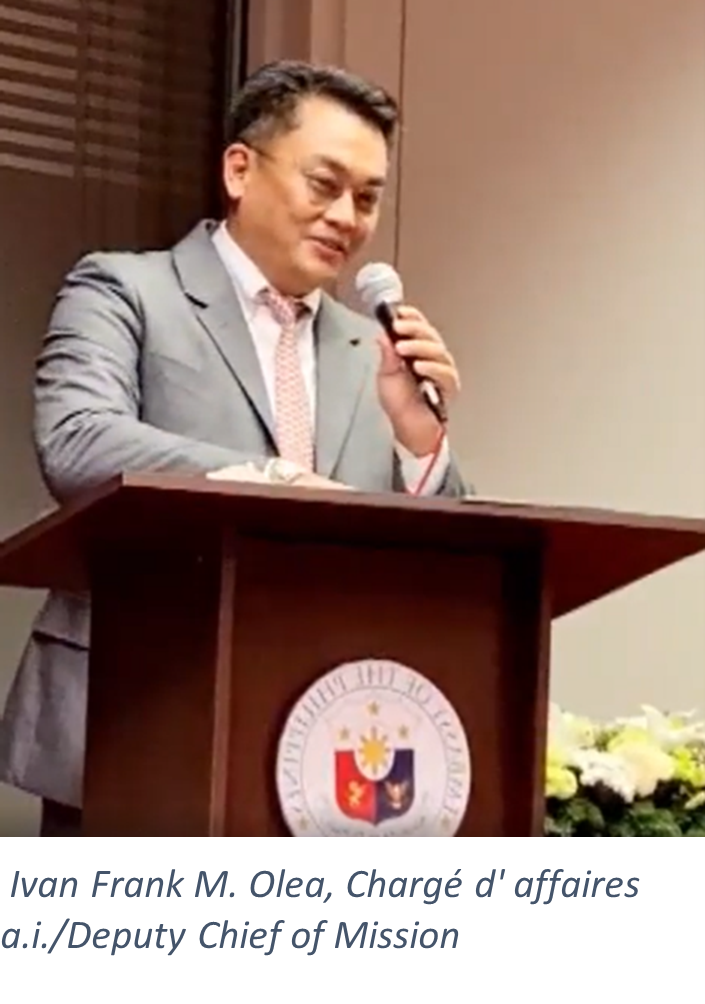 CdA/DCM Olea added that the three Pillars of Foreign Service are Political, Economic and Assistance to Nationals. Under the leadership of Ambassador Maria Cleofe R. Natividad, Science Diplomacy was introduced as the 4th Pillar.
The Embassy wants to work closely with the FilCom to enhance the image of Filipinos and make people aware of the contributions of Filipinos to the development in Austria.
He assured everyone of the continued support of the Embassy for each organization's activities and looks forward to working hand in hand with them in the coming years. In addition, he requested everyone's help in engaging the youth.
CdA/DCM Olea encouraged registered Filipinos in Austria to exercise their right to suffrage, to vote in the coming election in May 2022. He also requested organizations to share information about their Officers which he will send to the Department of Foreign Affairs for inclusion in their master list of Philippine organizations worldwide.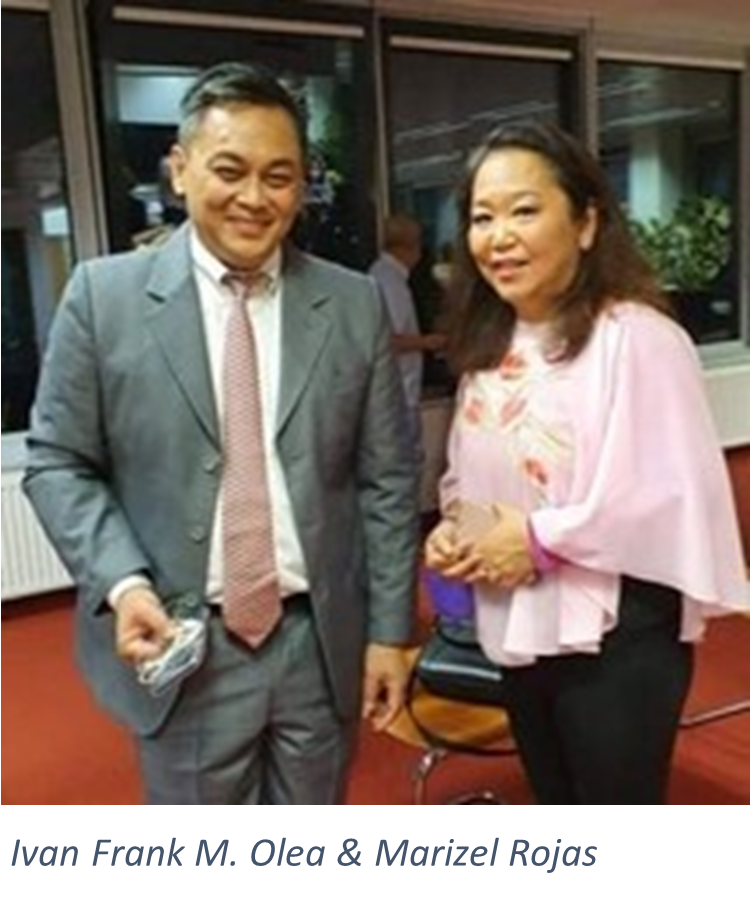 In conclusion, Chargé d' affaires a.i. (CdA)/ Deputy Chief of Mission (DCM) Ivan Frank M. Olea wished everyone greater success, good health and a productive year ahead.
Chairwoman Maria Zelda "Marizel" Rojas attended the milestone event on behalf of ENFiD-Austria, together with representatives and members of FilCom organizations such as the Association of Novo Ecijanos (ANEA), Babaylan Austria, Bikol Society Austria (BSA), Bulacan and Friends Association in Austria (BAFAA), DDS Europe, Filipino Assistance Movement in Austria (FAMA), Förderung der Philippinische Kultur und Folklore (FPKF), Folklorico Filipino Vienna, Igorot Austria, Kakampink Austria/Leni-Kiko 2022 Austria Movement, Pandan Association in Austria (PAA), Philippine Austrian Cultural and Educational Society (PACES), Philippine Association of Medical Technologists (PAMET), Philippine Desk, Philippine Nurses Association in Austria (PNA A), Vienna International Centre Club Filipino (VIC CF), Vienna International Centre Group of Polynesian Friends (VIC GPF) and the Verein Filipina in Österreich (VFÖ).
————————————————————————————————————–
ENFiD-Austria is a fast-growing Europe-wide cross-sectoral, all-inclusive overseas-Filipino platform in Europe that has genuine developmental ambitions translated into timely and relevant actions for Euro-Filipinos and the Philippines. It was established on 15 October 2017, in Vienna, Austria. Young and small as it is, with 8 adult and 2 youth members, it has organized various activities in line with its 4Es Programmes and Advocacies: Education and Learning, Embracing the Environment, Empowering Euro Pinoy Youth, Elevating Arts, Culture and Sports.
For more information:
W: http://www.enfid-austria.eu
FB: https://www.facebook.com/groups/1763959247220257
M: +43 69914596190
About the Author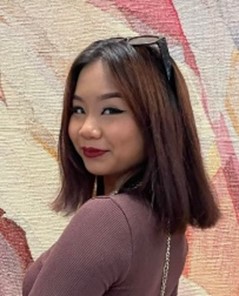 Currently taking up Communications and Social Sciences at Mater Salvatoris, Sarah Jozelle Magistrado ROJAS is the President of the Young European Network of Filipino Diaspora Austria (YENFiD-Austria). She is the product of a Bicolana-Zamboangeño union, born in Austria, typical Austro Pinay actively involved in the Filipino Community.
She is the Assistant Secretary of Bikol Society Austria (BSA), a member of Philippine-Austrian Cultural and Educational Society (PACES), the United Nations Women's Guild (UNWG) and Green Heroes Austria. Recently, she discovered her interest in prose and passion for poetry.
E: sarahj.rojas@yahoo.com IG: bratsybits YT: Heart2Heart Heart2Heart – YouTube
FB: Sarah Jozelle Rojas W: This is Sarah | Simply Sarah (wixsite.com)
This post has already been read 52 times!