Read Time:
1 Minute, 2 Second
This year, AK Vienna again offers its free campaign "Summer in the City. City for all". Ten free events will take place in nine Viennese districts until August 10.
"Due to inflation, many have to cut back on vacations and leisure time. It is, therefore, all the more important that there is more space and opportunities for free togetherness in the city," AK President Renate Anderl.
AK Vienna offers Viennese numerous free events
At ten events in nine Viennese districts, the Viennese will be offered roller skating discos, circus workshops, bike repair workshops, concerts, and street festivals. In addition, advisors from AK Vienna will provide advice and help.
"Inflation is causing great concern for more and more people, and the Corona figures are also rising again. Especially in such difficult times, the AK wants to be on site with the people to listen to them and be there for them. We are using the summer to offer our members advice and help in a relaxed atmosphere," says Anderl.
All info on the events of "Summer in the City. City for all" and registration for the Grätzel tours can be found here: Summer in the City | Arbeiterkammer Wien
Programm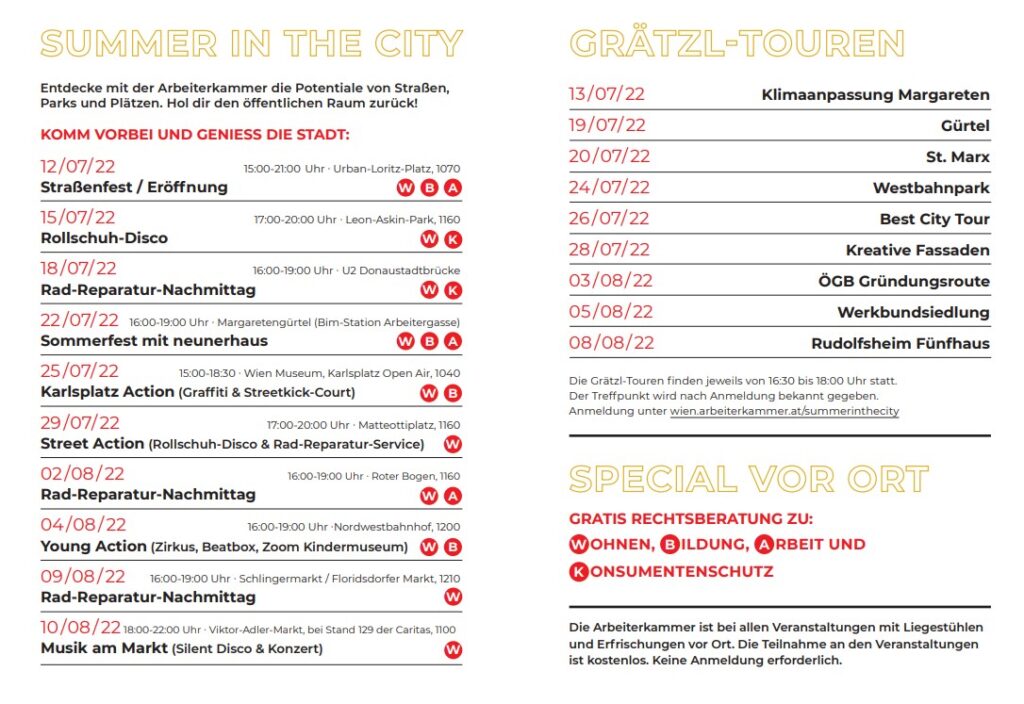 source: vienna.az/arbeiterkammet.at/picture: arbeiterkammer.at
This post has already been read 328 times!