Read Time:
1 Minute, 54 Second
Mr. Tommy Aquino, a Philippine-born artist, living in Vienna, will conduct another Painting Workshop in October. Aquino had been offering his talent to all budding artists during the past years.
The primary objective of Mr. Aquino is to motivate the young ones in the arts field.
"I will be conducting a Painting Workshop for the children. To inspire and Motivate them into Arts… rather than wasting their time on nothing! I would like them to learn how to value their time! Time is essential and precious! I encourage every parent. Let your children join our Painting Workshop," Tommy Aquino said.
The Painting workshop will be held on Saturday, October 15, Oct. 15, 2022, at PIUS – PARSCH – PLATZ. 2, 1210 WIEN, from 2 to 5 pm.
The Painting workshop is also a charity event. Donations and proceeds of the workshop will help the poor students in Laguna and Balanga, Bataan.
Before the outbreak of COVID 19 in early 2020, TOMMY AQUINO mentored interested children and adults on the use of watercolor, oil and pastel, acrylic, and mixed media during the Free Painting Workshop – Art and Fun Day with Kuya Tommy on September 14, 2019, held at the KSV Sport- und Seminarzentrum, Prater, Vienna, Austria. The hall was filled with art-loving, both Filipino and foreign participants.
Aquino is one of the Exclusive and permanent resident artists of City Gallery Vienna.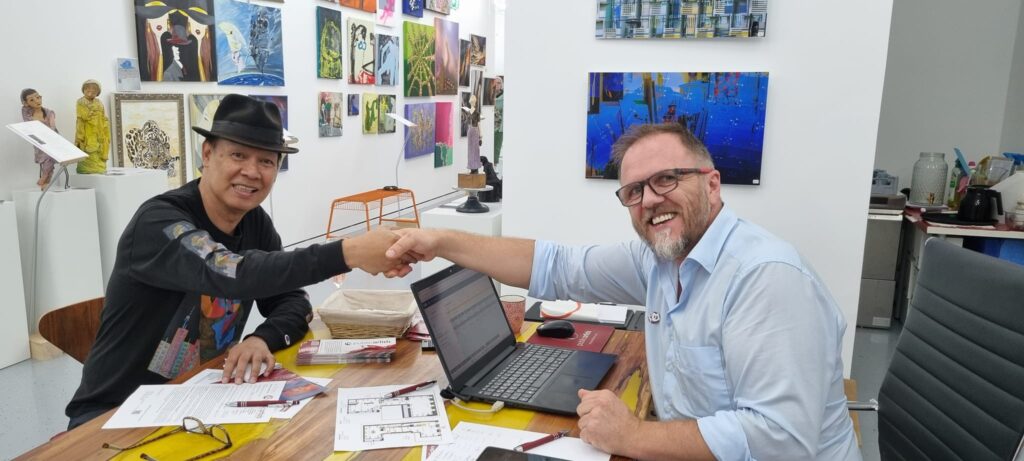 Mr. Tommy Aquino has received International painting Awards and participated in various international exhibits.
As his modern art paintings echo the style of Pablo Picasso, Tommy Aquino is known in Vienna as "Tommy Picasso Aquino." While he may be known more for his modern art, Mr. Aquino paints in various styles.
As an intuitive artist, Mr. Aquino says he gets inspiration from his dreams. Mr. Aquino has featured his paintings in Busan, London, Shanghai, and Los Angeles.
"My passion is in my inner soul, and I am always learning from my experiences," the self-taught artist shared on his website.
Tommy Aquino masterpieces are also printed on various items, which can be acquired at ETSY — the e-commerce specialist on craft and vintage supplies.
hpascua/Pictures: Tommy Aquino | Facebook
This post has already been read 44 times!