Read Time:
2 Minute, 1 Second
On Sunday evening, October 30, 2022, an Illuminated Procession took place at the grounds of the Pfarre Herz Jesu, Töllergasse, in Vienna's 21st District, marking the end of the Rosary month, October.
The parishioners and other friends from other parishes and devotees of Our Lady of Manaoag participated in the procession of lights.
"As a parish, we pray the rosary tonight," said parish vicar Fr. Josef Giggenbacher in his welcome prayer. "I am truly pleased that you have found your way here today. With our prayers, we take our intentions before the Blessed Mother," the priest said.
Fr. Josef Giggenbacher further explained what a high ideal and essential role a mother is and called for this ideal to be upheld in society. Especially in today's society, the beauty of motherhood is being oppressed and attacked. Every mother is to be honored; Jesus desires the praise of his mother by humanity, expressed primarily through the prayer of the Rosary.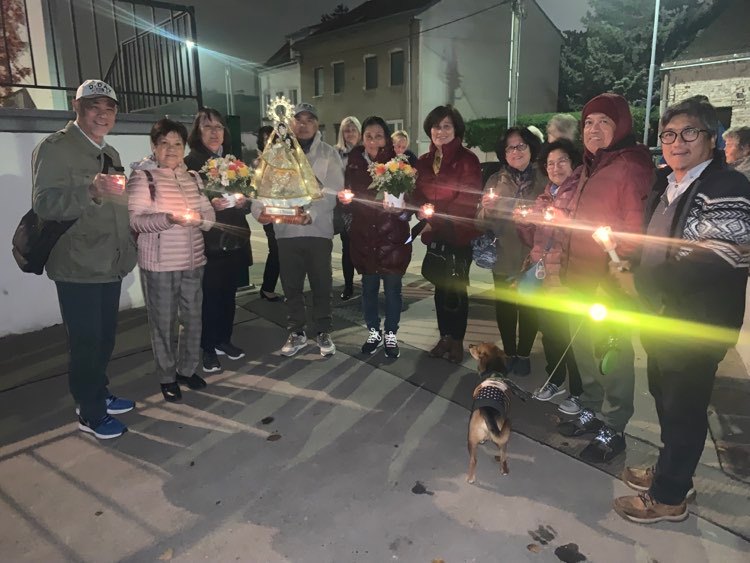 The Association of Pangasinenses in Austria and other Filipino devotees have established themselves as a religious group in the parish since the original image of Our Lady of Manaoag is currently enshrined at the parish church.
THE HISTORY OF THE ROSARY
The multiple repetitions of short prayers are known in almost all religions. In both Islam and Buddhism, prayer cords are used for this purpose as an aid to counting. The prayer cluster was already standard in the Eastern Church from the 3rd century onwards and became established in the Western Church a little later. The Catholic prayer of the Rosary developed from early medieval prayers.
The oldest written reference to a counting cord strung with stones is found among the Anglo-Saxon noblewoman Lady Godiva in the 9th century. The form of the Rosary in use today originated in Advent 1409 when the Carthusian monk Dominic of Prussia from Trier put the Life of Jesus devotions into 50 prayer sets.
The fact that October is considered "Rosary Month" is related to a historical battle in the Ionian Sea at Lepanto. On October 7, 1571, the Christian Mediterranean powers, organized under Pope Pius V, with Spain at their head, had won a surprising victory over the Ottoman Empire. The Pope attributed this victory to the prayer of the Rosary – after that, Pius V decreed that from now on, this day should be celebrated as the "Feast of the Blessed Virgin Mary of Victory."
This post has already been read 348 times!