Read Time:
2 Minute, 45 Second
The Philippine Embassy in Austria and the University of Applied Arts Vienna (Angewandte) signed a donation agreement on 24 August 2023 in Vienna to establish a Philippine Research Initiative under the latter's strategies department, considered the first of its kind in Austria. Angewandte is the leading competence centre for artistic and scientific research in Austria.
The Embassy of the Republic of the Philippines is donating 3 million Philippine Pesos–approximately fifty thousand Euros–to the University of Applied Arts Vienna for studies centred on Filipino culture and heritage. The initial offering will be a theoretical and practical introduction to contemporary Philippine art and curation. The donation agreement was made possible by a program initiated by Philippine Senator Loren B. Legarda, a strong advocate and supporter of academic programs and projects in universities worldwide that promote Philippine culture and heritage.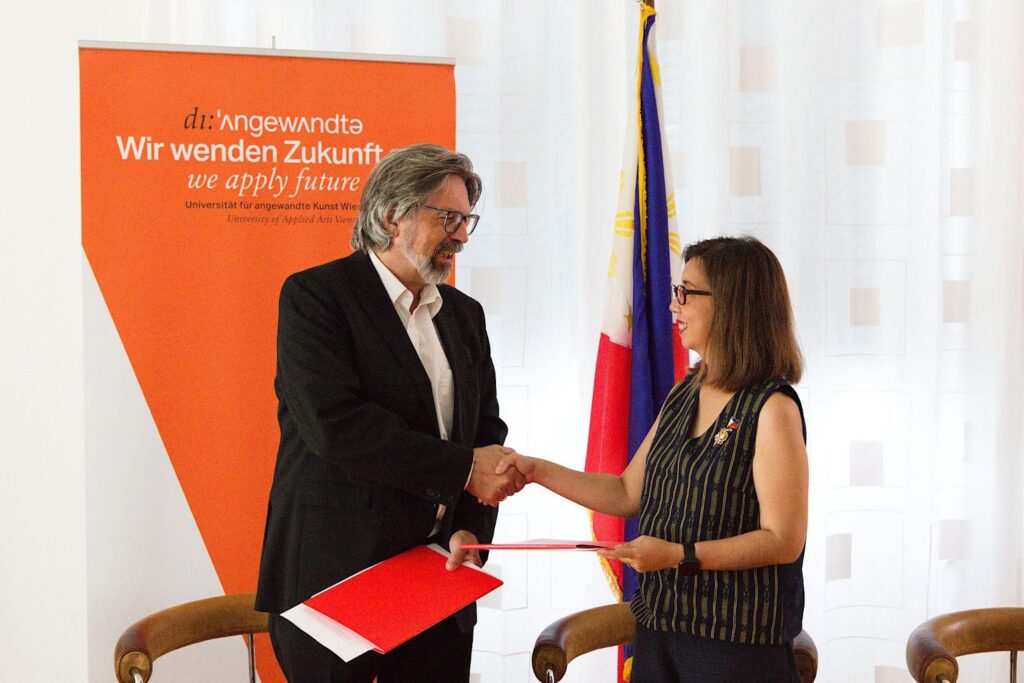 Senator Legarda expressed optimism about the project's impact in her message during the signing ceremony. "Showcasing the rich artistic heritage of the Philippines within a distinguished academic art institution located in a city celebrated for its dedication to artistic and cultural endeavours is a milestone for cultural diplomacy," she stated.
"International" relations are indispensable elements of living universities. Cross-national interaction enriches the thinking of the people involved from different realities of life and promotes the complexity of the content of artistic and scientific work," said Angewandte Rector Gerald Bast as he explained the background of this new cooperation.
The Vienna-based research initiative is unique among established Philippine Studies Programs worldwide. It focuses on the applied arts and "offers teaching of theory and practice, situating at its core questions of artistic methods in relation to social dynamics and global challenges."
According to Philippine Ambassador to Austria Evangelina Lourdes A. Bernas, "This initiative not only enhances European understanding of the arts and culture of the Philippines but also kindles genuine interest in our diverse heritage and history, particularly in our strong creative arts tradition. I am optimistic that this programme will foster cross-cultural appreciation and meaningful exchange."
Activities in the research initiative program will include a public talk series, workshops, and screenings. They will be available to undergraduate and postgraduate students of the Angewandte and the general public interested in the Philippines and its artistic endeavours and perspectives. The Artistic Strategies Department led by Univ. Prof. Bouchra Khalili will be primarily involved with the Philippine Research Initiative.
Philippine Embassy Cultural Officer Ms. Kristine Camille Cruz also expressed her enthusiasm and optimism about the collaboration between the Embassy and the University of Applied Arts in Vienna (Angewandte).
"I am honoured "to be part of the project that celebrates and explores Philippine arts and culture. I would also like to extend my gratitude and appreciation to Angewandte for making this initiative possible in Vienna. I look forward to potentially working on similar projects and wish Angewandte continued success."
To view Senator Legarda's message on the occasion of the signing of the donation agreement, click on this link: https://fb.watch/mIar4duhEa/
Press Release from the Philippine Embassy in Vienna (Photos by: Universität für angewandte Kunst Wien, Fanny Holter)
This post has already been read 1201 times!