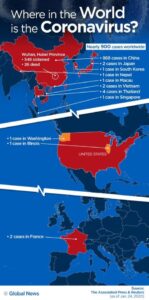 VIENNA, Sunday, January 26, 2020 — Austria announced Sunday the first suspected case with the new Corona virus, indicating it was a Chinese citizen who arrived in the country on Friday.
The suspect with the virus arrived in the country with symptoms similar to those the new Corona strain. The female Chinese was transferred to the isolation department, Director of the Vienna Hospital Association (Kav), Dr. Michael Binder said in a press conference.
For their part, doctors participating in the news conference confirmed that the patient's health is improving, which reduces the possibility of her infection with the new corona virus, calling for waiting for 24 hours to confirm her condition.
They stressed that the virus does not pose any danger to Austria so far, where necessary precautions have been taken in coordination with the World Health Organization to confront the new Corona.
On Saturday, the Austrian Foreign Ministry called for avoiding unnecessary travel to China, especially to the Chinese province of Wuhan, due to the dangers of the new Corona virus.
Vienna International Airport announced earlier that the situation is being monitored precautiously in the airport in anticipation of monitoring the new cases.
The Corona virus has infected about 2,000 people worldwide. The virus has spread to Chinese cities including Beijing and Shanghai, as well as to the United States, Thailand, South Korea, Japan, Australia, France and Canada.
The Chinese health authorities announced earlier Sunday, the registration of 56 deaths and 1,985 confirmed cases of the new Corona virus throughout the country, including 234 cases in critical condition.
– kuna.net.kw
This post has already been read 82 times!