Read Time:
1 Minute, 2 Second
Join the Filipino Community in Austria in this colorful street parade featuring the most popular festivals of the Philippines and Austria to commemorate the 75th Anniversary of Philippine-Austrian Bilateral Relations, fostering unity and friendship and deepening our ties despite our diverse cultures, traditions, and ethnicities. A historical event organized by the European Network of Filipino Diaspora-Austria (ENFiD-Austria)!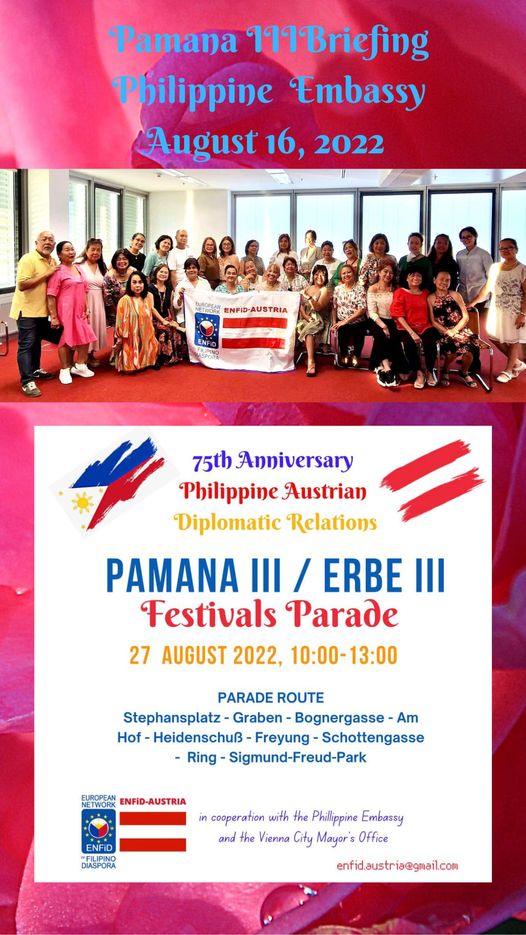 It was on 30 October 2021 when ENFID-Austria staged this incredible show of the richness of the Filipino culture for the first time. ThePhilippine Embassy in Vienna commended ENFID-Austria for organizing the event and all the participating Filipino organizations. The then Charge d Áffaires Joy Amatong personally thanked the participants for supporting such activities that promote solidarity within the Filipino Community in Austria.
Marizel Rojas, president of ENFID-Austria, wants to invite Filipinos and friends in Austria to join the Pamana III Festivals parade: "Pamana III Festivals Parade will be held in the first district of Vienna, Austria on Saturday, 27 August 2022, 10:00-13:00. We invite you as participants, sponsors and/or spectators from Austria and other parts of Europe to come and join us! Tara na, tayo ay mag parada! Ipagmalaki ang ating kultura."
This post has already been read 657 times!