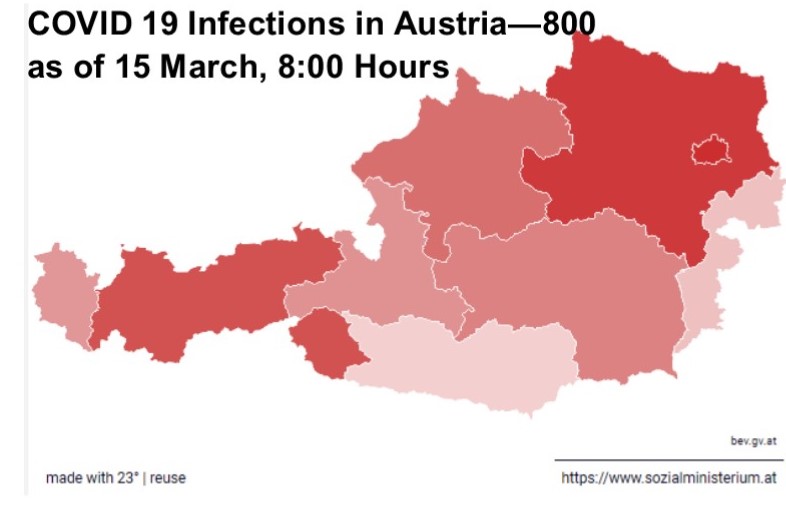 16 March 2020 – Vienna, Austria – In his speech at today's special session of the National Assembly on the coronavirus crisis, Federal Chancellor Sebastian Kurz announced further severe restrictions on public life. Among other things, the Austrian federal government plans
– Events will be banned/cancelled.
– Freedom of movement in public spaces will be massively restricted
– Sports grounds, playgrounds and other public places of encounter will be closed
– The Austrians are asked to isolate themselves.
This means to maintain social contacts exclusively with those people with whom one lives together.
The chancellor maintains that there are only three reasons to leave the house:
1) Professional work, which cannot be postponed
2) To buy urgently needed supplies (food)
3) To help other people
– Starting Tuesday, March 17, 2020 restaurants are completely closed (no longer only from 15 o'clock)
Food supply is to be guaranteed by supermarkets and delivery services.
Entry regulations will be further tightened. Travellers from Great Britain, the Netherlands, Russia and Ukraine will no longer be able to enter Austria, with the exception of those who are in home quarantine for two weeks or who have a current health certificate.
Apart from the task of slowing down the spread of the virus, security of supply in Austria must be guaranteed at all times.
The imminent withdrawal of basic military personnel is stopped and the readiness of some units of the military is established.
 Hector Pascua
Source – www.sozialministerium.at
This post has already been read 69 times!