Read Time:
2 Minute, 2 Second
VIENNA: From 15 June, the mandatory use of mask will be abolished in most areas. There are also further relaxations in the gastronomy sector.
The next two relaxations of the corona measures will enter into force on 15 June. From then on, the obligation to wear a mouth and nose protector will be lifted in many areas. Closing hours in restaurants will be moved back from 11 p.m. to 1 a.m.
Nationwide, there are now only about 550 people currently ill. This is also the reason why the long and strict obligation to wear masks is being relaxed. "The smaller the number of people infected, the smaller the chance of meeting someone who can infect you," said Federal Chancellor Sebastian Kurz (VP).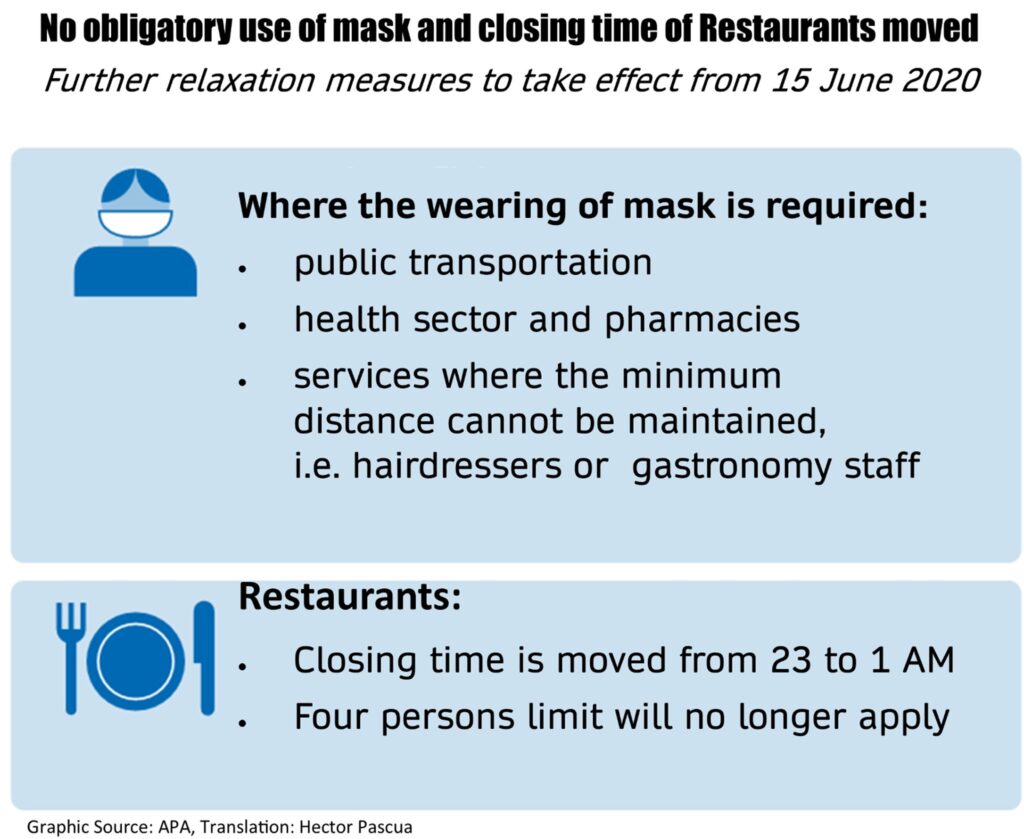 Mouth-nose protection: From 15 June, the mandatory wearing of masks will be generally abolished. However, there are still far-reaching exceptions: In public transport, in the entire healthcare sector including pharmacies, at hairdressers and other service providers where the minimum distance cannot be maintained, the obligation to wear a mask will continue to apply. In restaurants, staff must wear one, but guests do not.
Gastronomy: Since May, restaurants, pubs and cafés are allowed to serve guests again, but must close at 11 pm at the latest. This closing time will be moved back to 1 am in mid-June. In addition, more than four adults are again allowed to sit at the same table.
Kurz announced that schools will also be exempt from the obligation to wear masks from 15 June. However, he "urgently" recommends that people continue to wear a mask in crowds where space is tight. Because the basic rules of "distance, hygiene, disinfection and mouth and nose protection" will continue to apply, albeit more and more on one's own responsibility.
Proposals of those state governors who want to introduce regionally different measures have been taken up "and largely incorporated into the nationwide steps", Health Minister Rudolf Anschober stressed. "It has gone faster than we thought", said Vice-Chancellor Werner Kogler (Greens), referring to the successes since the lockdown in mid-March.
The first four major opening steps have not brought any relapses in corona infections. Should there be any in the next ones, which only affect individual regions, Anschober announced that he would sit down with the federal states and consult together. Also in mid-June, there will be freedom of travel with neighbouring countries again.
This post has already been read 1504 times!